Evvnt is a digital events marketing platform that allows you to promote your event quickly and efficiently via multiple listing sites, its classed as syndicated content marketing and is one of the best ways to market your event.
__________________________________________________
Our Mission
We empower people, event organizers and venues with our technology to give you a platform to promote your event via local and targeted publishers from one submission.
Watch the explainer video
__________________________________________________
How does it work? - From a single event submission we scan our network of 3,800+ targeted and localized event listing sites and syndicate your event out on to the ones that relate to your events content.
The service is exceptionally strong in the US as we are signing newspapers who wish to utilize our event calendar technology and also wish to supply you event organisers with powerful event marketing services.
__________________________________________________
Our Free Service - If you submit your event for free, your event will be published on one event listing site, you will be sent a report so you can review your event submission and click on a 'live link' which will take you to your event listing on one calendar.
Here is an example of a free listing event report.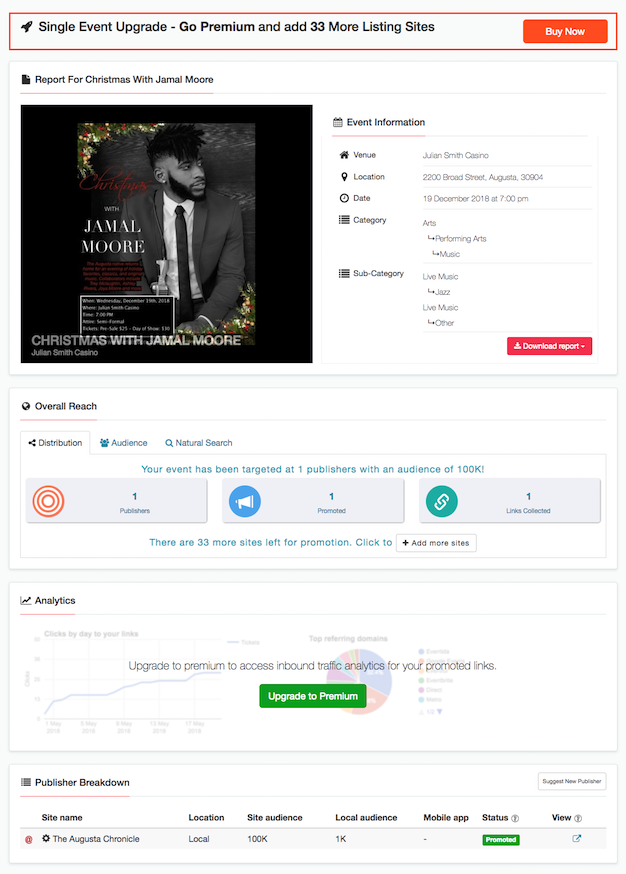 __________________________________________________
Our premium service - is to syndicate your event to all event listing sites and calendars based on the category and location of the events. One we know where your event will take place and the category we are able to show you the full list of sites where your event can be syndicated - we show you this list at the end of the event submission.
The full list of sites where your event can be syndicated to.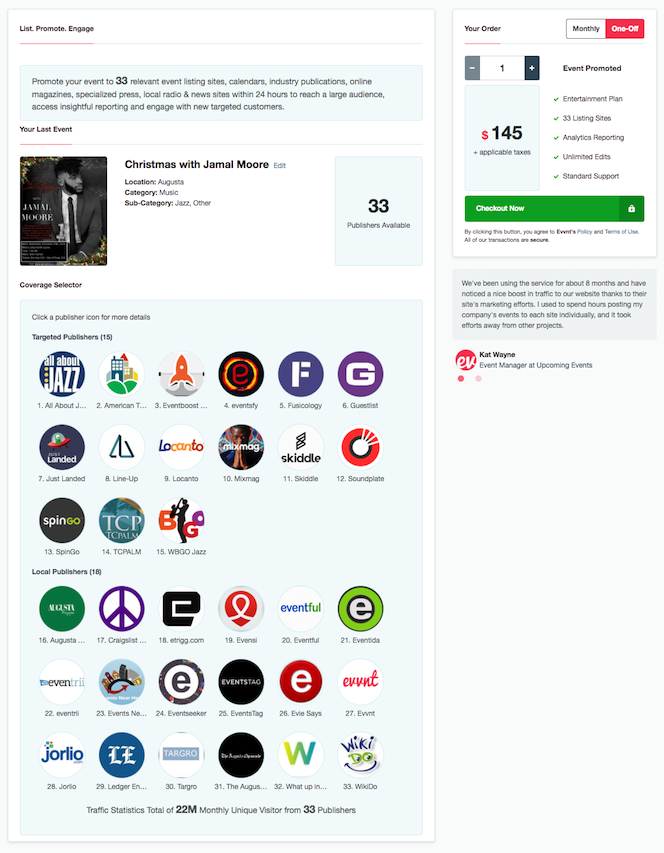 You can choose at this point to promote your event for free on the events calendar to one listing site or upgrade to premium and be syndicated to all listing sites presented.
Unlimited Free Event Submissions - You can submit unlimited events for free
One Off Packages - A one time payment / no contract / minimum 1 event
Subscription - Monthly contract, cancel anytime / minimum 4 events per month
__________________________________________________
Pick a plan & Checkout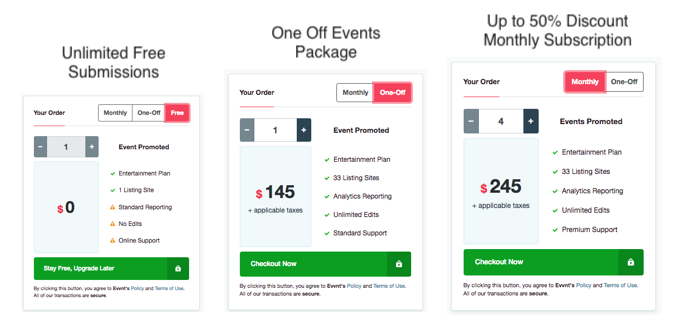 If you upgrade to premium your event report will unlock click reporting and list all of the sites selected for syndication, within 24 hours you will see your event being promoted across the web and we aim to get 60% live links on your event report within 72 hours.
__________________________________________________
Premium Event Syndication

Features
Premium content syndication to all listing sites
Featured Premium on the home page and category of the calendar
Print inclusion (Dependent on newspaper)
Voice inclusion (dependent on newspaper).
Benefits
You submit once, we promote your event via 30+ targeted listing sites from a click.

Saves you hours of time v's manually submitting each event.

Targeted by category and location.

Online reporting and tracking for each event.

Targeted by category and location.

Your events will appear higher in natural Google rankings due to the amount of content published.
__________________________________________________
Feature Event
Your event on the home page of your local events calendar and on the category page for your event.
Featured Event is included in Premium

Simple Event marketing ensuring your event is listing on the all of the very best event listing sites and calendars from one submission.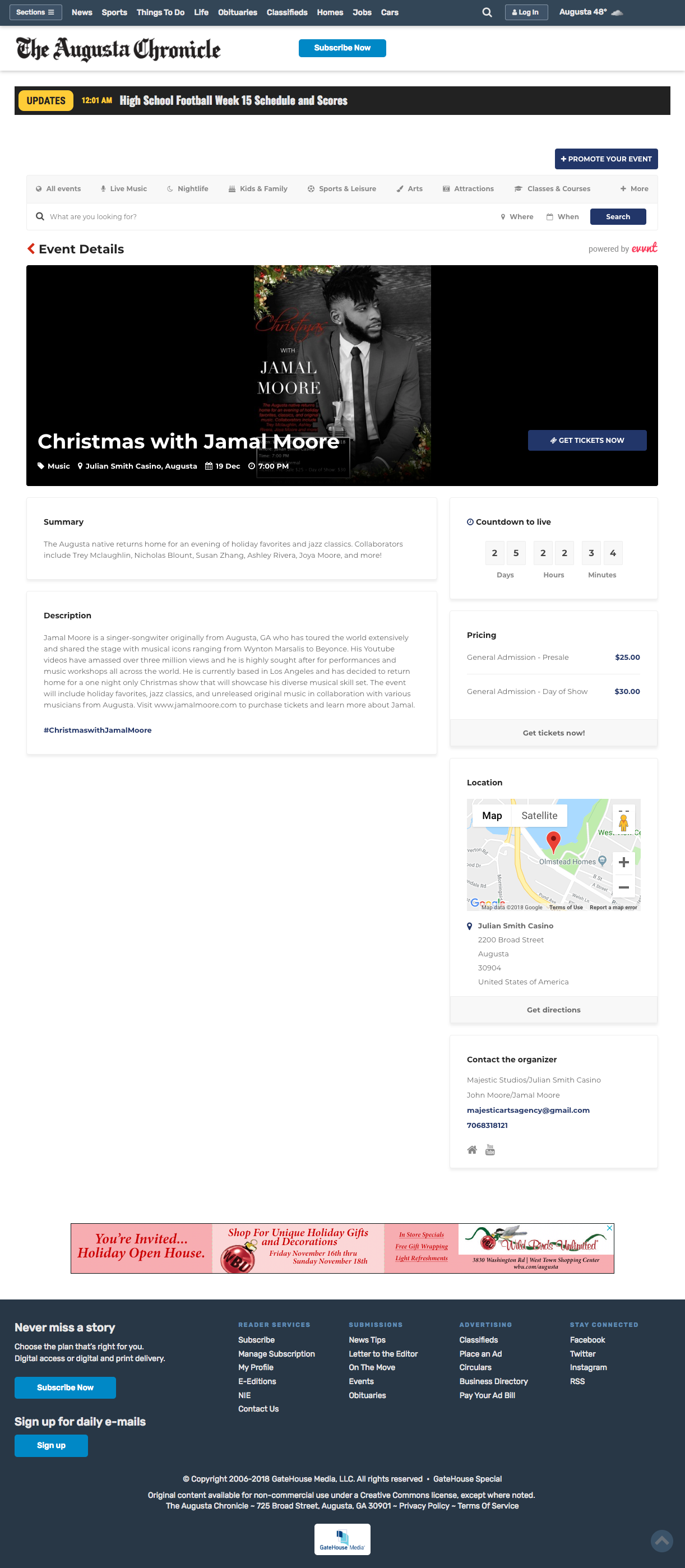 __________________________________________________
Report With Click Performance Active

__________________________________________________
Report with Ticketing Sales Reporting Active

__________________________________________________
Questions & Answers
Q. "My event is very specific / niche so I don't think Evvnt will work for me"

This method of marketing gives your event consumer targeting via Search Engine Optimisation of your events content and the fact that the you are giving us the title, keywords, category and other information which hones in on their specific audience. It's local, specific and very niche natured events that work best on our platform

Q. "We already list our event on sites for free"

Typically people list their events on 5 - 10 sites with a significant time investment, we recommend 20+ sites to even impact organic search results and we reach 30+ all in 15 minutes! Your time is money.

Q. "Listing sites don't work"

An event listing site is where an event should and must be published, we track results to provide clicks back to your booking page website and with volume and the inherent SEO benefits, we find event organizers see a positive impact. They do work when you reach them in the volume that we syndicate to!

Q. "How do I track my investment back to a return on investment - ROI"

We supply a per event report, do the syndication work for you, supply click tracking and report back on a site by site basis, it's very transparent in terms of your time saved and reporting being delivered. To get 100% ROI we suggest you use ticketing via Eventbrite or use your own ticketing and supply a full trackable UTM tracking link, if you track marketing back to tickets and revenue then it's 100% trackable to an ROI.

Q. "We can do this ourself and list our events for free"

Whilst many listing sites are free, it requires significant time to reach them and generally you won't reach the volume that we can leverage. Equally we supply a per event report, have tracking provided as part of the service as well as click, registration and revenue* reporting so you can monitor success. We'd suggest that you and your teams time is better spent focusing on other activities rather than manually listing your events!

Q. "We have an in-house marketing team"

We aren't looking to replace your in-house team, in fact this enables them to be more effective as this is a tool you can use in house to help the team save time and maximise reach. Much in the same way that MailChimp would be used in house for email or Hoot-suite for social media management, Evvnt is designed to be used by your in-house team to effectively leverage listing sites with minimal time invested.

Q "Budget / Cost"

Evvnt is very reasonably priced and usually similar to or less than a single attendee ticket. We are always confident that the service will result in ROI and increased attendance for any event we work with! We are also able to provide volume discounts and subscription offers for those with multiple events.
__________________________________________________
Subscription Packages
Start from 4 events per month
Heavily discounted up to 50%
Cancel anytime
Go Premium Today!
__________________________________________________
Evvnt.com - We operate in over 139 countries worldwide and from a single submission can syndicate your event information across the web turning Google search in to Event Discovery for your event.