Event data submitted to your site will be blended with Evvnt data and published - we prioritise your events data over third party backfill and ensure your premium customers get the most prominent positions.
Our data model is like a pint of Guinness - we put your data, the cream to the top and the backfill sits below to ensure we deliver your User Generated Content first (UGC) then support any gaps with api integrations with the market leaders for events data.
You can also add backfill events from other sources.
Setting up a backfill of events data from one of our integration partners allows you to fill your events calendar with events that are relevant to your focus area. This is a great tactic when you are just getting your events calendar off the ground and do not have a lot of event listings.
Manage data sources
Active Network powers the world's activities and connect people with the things they love, want and need to do. Data is based on the markets they serve which includes: Race and Events, University Athletics and Programs, Camp and Classes, Swim Programs, YMCA Management, Park & Recreation Management, and more.
GeoTix's local ticketing platform is specially designed for local media companies like yours to supply white label ticketing services and events data via the Evvnt calendar platform.
Goldstar is a privately held event discovery service based in Pasadena, California that sells tickets to leisure activities such as live entertainment, theatre, concerts, dance, film screenings, and sporting events.
Eventbrite is a U.S.-based event management and ticketing website. The service allows users to browse, create, and promote local events. The service charges a fee to event organizers in exchange for online ticketing services, unless the event is free.
Ticketmaster Entertainment, Inc. is an American ticket sales and distribution company based in Beverly Hills, California with operations in many countries around the world. In 2010 it merged with Live Nation under the name Live Nation Entertainment.
Adding Backfill Data
The option to turn on and off data from your back office settings.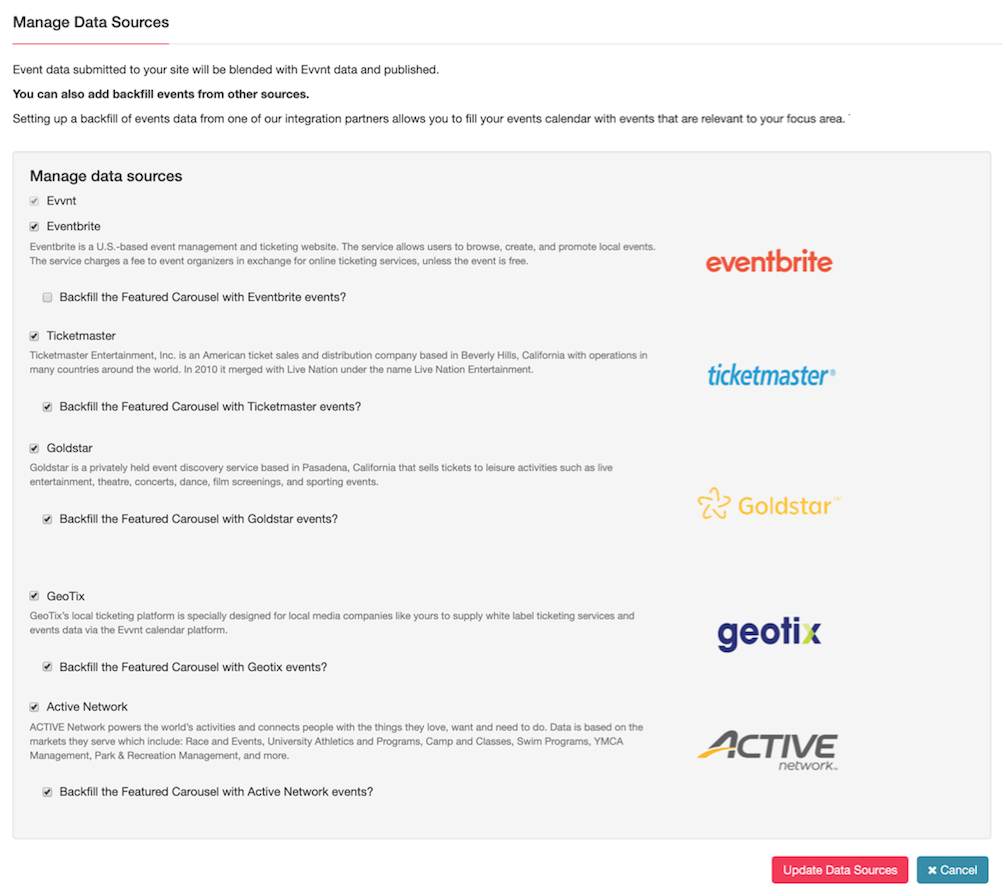 Managing Events Data

See events data by source and also by category.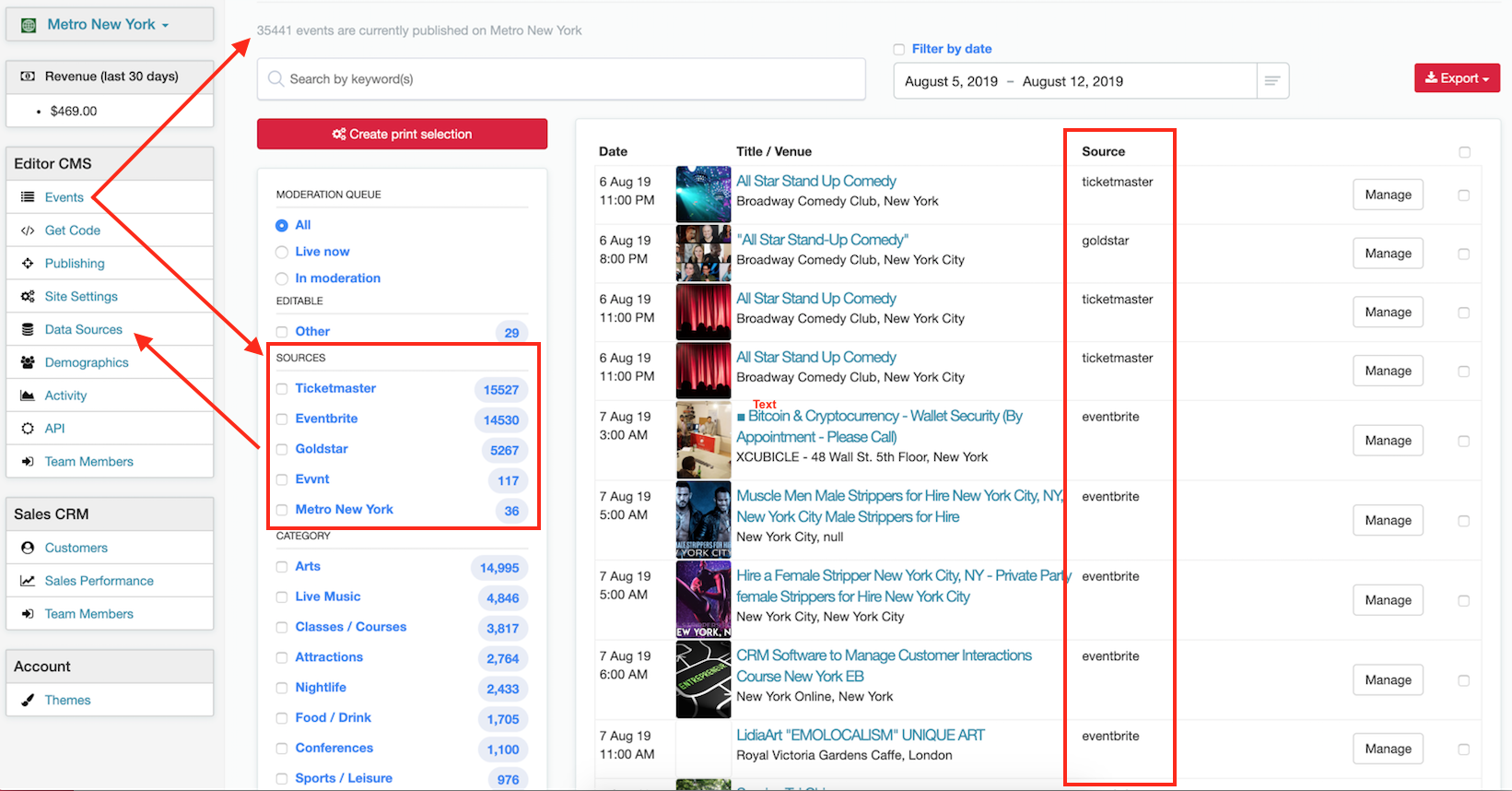 Claim Your Event
Adding the Claim Your Event button to each and every data point simplifies the process for event creator to buy premium services from your events calendar. Not only do we ingest the data to add a deeper layer of content to your site but we allow event creators from all of our data partners to click, claim, buy and process their events pre-loaded in both the 'Quick' and 'Advanced' event submission form
When a customer claims their event and goes premium you generate revenue.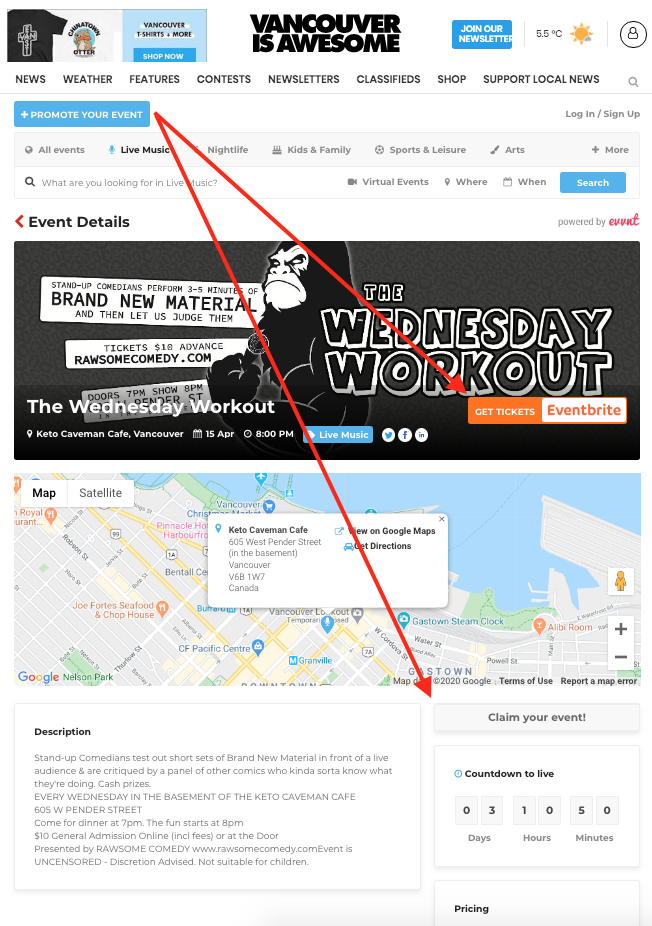 Data Distribution with Syndication as a Service
Add your events data to our events calendar network via our API and reach a new audience. Each event supplied gets it's own branded page and in return we supply you a custom checkout link to our Snap Sell, checkout & syndication premium marketing services which you can send to your event creators or add to your back office CMS to unlock new advertising revenues & increase ticket sales.