It's quick and easy to submit an event on your calendar. In one quick form, we gather everything needed for a quality event listing! The submission form will prompt users for the information needed to add the event to our system.
Create a customer for yourself for the most options when posting events to your own calendar. You are likely an editor or admin which means any events you create will be attached to that user. This is not ideal as our system treats admin/editors differently than 'promoters'. It is best for you to create a 'promoter' or event creator account for yourself using an alternate email, and you can then find and impersonate that user from your partner account. Impersonating a promoter user will give you access to save and edit draft events, copy expired or past events, create recurring events, and more easily find just the events that you submitted.
How to create a promoter account:
Log out of your partner environment or open a different browser application.
Navigate to your calendar and select Sign-up
Sign-up with an alternate email address or use your email address with "+evvnt". For example, if you log in with todd@email.com then you can use todd+evvnt@email.com.
Follow the prompts to set the password for this new account.
Once this account is established, you can use your partner access to impersonate the promoter account. We recommend bookmarking the user (found in the Sales CRM) and using the "impersonate" feature.
Invite hosts to post their own events
The goal of our calendar is to allow users to post on their own with no intervention. It is quick and easy, and offers them the chance to make changes to the event, add more events, AND it will give them opportunities to use our promotional tools. This is how your calendar earns revenue for your publication, but inviting users to your submission form.
Send users to your calendar
The easiest option is to send everyone to your calendar page. Users can begin their event submission by clicking on the "Promote Your Event" button located on the top right of the calendar. This frees up your editors for other tasks.
Make it easier and send them the direct link
You can generate a link to your publications submission form in the "Get Code" section of the Editor CMS. From the Get Code section, you can configure a link that you can share with anyone that wants to submit an event directly to your calendar.
You can post an event on someone's behalf and create an Evvnt account for them to access all the features of the system. To do this, you must find the user and select "Impersonate".
With admin access, scroll down the left side menu to find "Event Creators"
Find the specific user using the search by email or name.
Enter the relevant search term and click search.
Note the other search filters in case someone may "own" the event creator in the CRM.
When you find the user, click on the name.
From the user profile, select "Impersonate".
Now you have entered into this user's promoter dashboard where you can navigate to their events to manage them or add a new event.
Be sure to revert to your original user before you try to access your partner environment in this or any other tabs. The "Revert" option will be on the top right of your browser tab.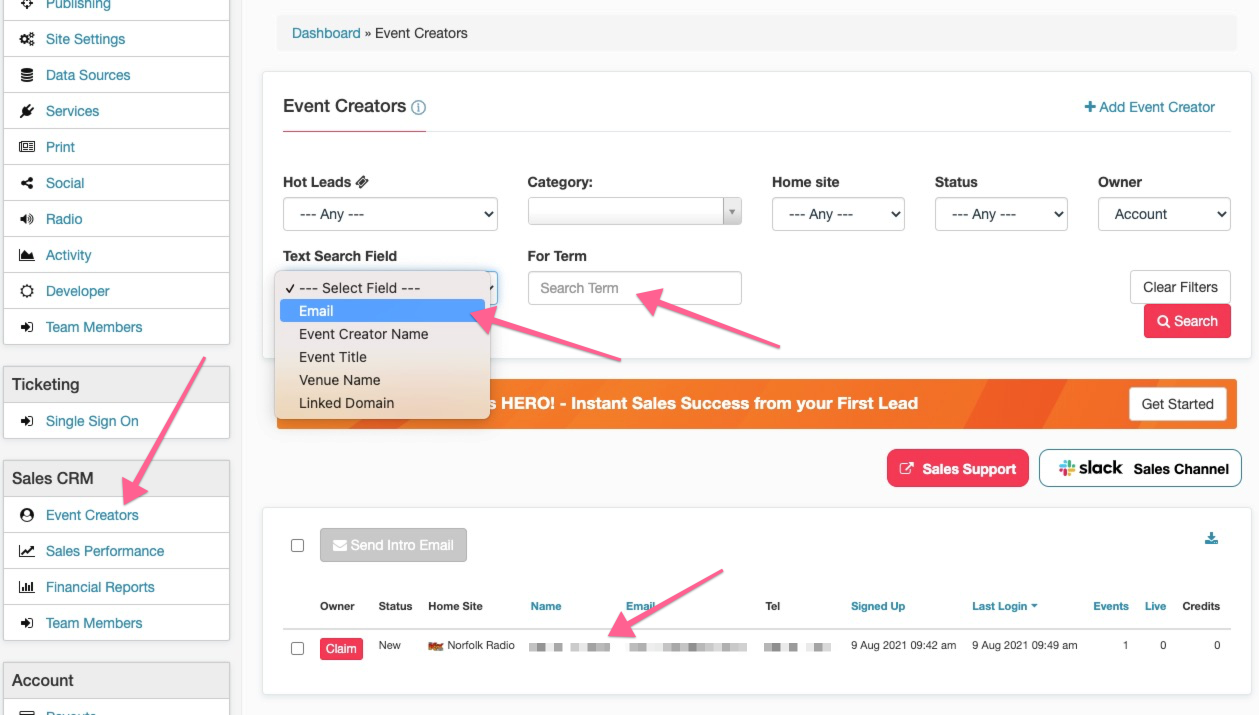 How to use our Submission Form
Instructions for how to use our system from the event creators perspective can be found here: Submitting an Event