The Editor CMS is the place to go to manage everything about your calendar. Any Admin or Editor user has access to this section of your back office. To learn more, you can sign up for one of our Weekly Webinars.
First, everything you will need is in the left-hand sidebar. Below is a brief explanation of each section and help links to more in-depth articles about each section.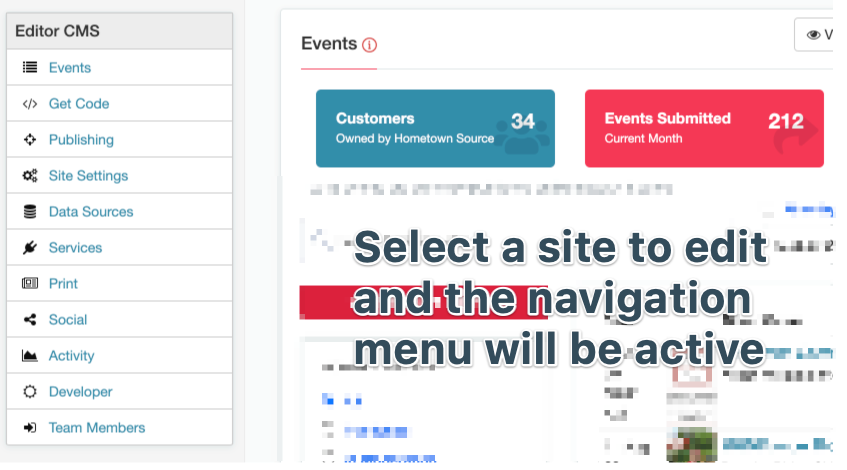 Events
The Events section is where you will go to manage your calendar's live event content.
Get Code
Get Code allows you to copy the code for your calendar technology. The calendar, widgets, submission button and submission URL can be configured here and added anywhere on your website.
Publishing
Publishing holds sections for moderating your events, choosing specific categories to show for your calendar and updating the catchment for your calendar.
Site Settings
The Site Settings sections is where the site name, URL, theme and logo can be updated.
Data Sources
Data Sources is for the backfill data that Evvnt provides from Ticketmaster, Eventbrite, Goldstar and Geotix.
Social
Social media is an importance part of your event marketing and promotions strategy, here you provide details about your social channels and help event creators promote their events and link these events back to your social accounts for re-sharing - learn about social reposting here.
Print
Activity
Activity reports on the total event submissions in the last 30 days.
Developer
The Developer section is for retrieving data published to a specific calendar. Each calendar has its own API key.
Team Members
You can add Team Members to your calendar and provide access to the Editor CMS, Sales CRM or both.