The Island Now launched with Evvnt in 2019, below is a case study done with Editor and Publisher, Steven Blank. 
Here's how it works: 
Evvnt software allows any event marketer to submit their event to your online calendar. Event marketers can then automatically access additional distribution to a network of more than 4,100 websites by category and location, giving them an even greater incentive to get on board.
While events will automatically appear for free in your digital calendar, you can offer marketers upsell opportunities for advertising in the print calendar, status upgrades like "editor's pick" or "featured" events, voice marketing and more valuable add-ons. This gives you the ability to create incremental revenue from an avenue that previously brought in little to no profit.
In addition to event marketer submissions, EVVNT can automatically populate your calendar with events from Ticketmaster, Eventbrite and other channels, so you always have a robust calendar base.
Through an easy-to-use CMS, your digital calendar can be curated and automatically converted by METRO to a ready-to-publish, revenue-generating print calendar like the one shown on this page.
Use print pages to cross-promote your online event calendar and listings, and quickly generate as many automated print pages as you need to accommodate premium event advertisers.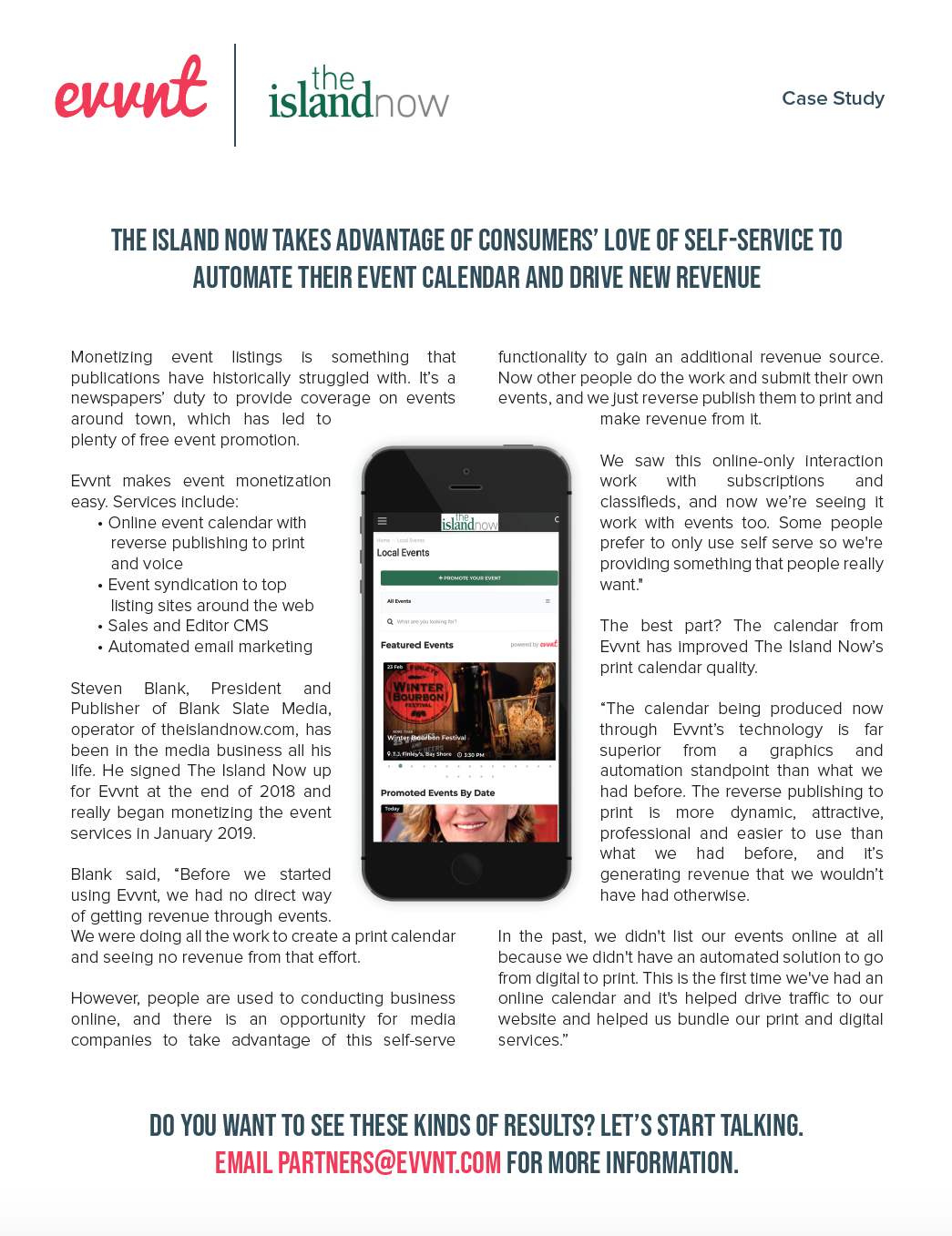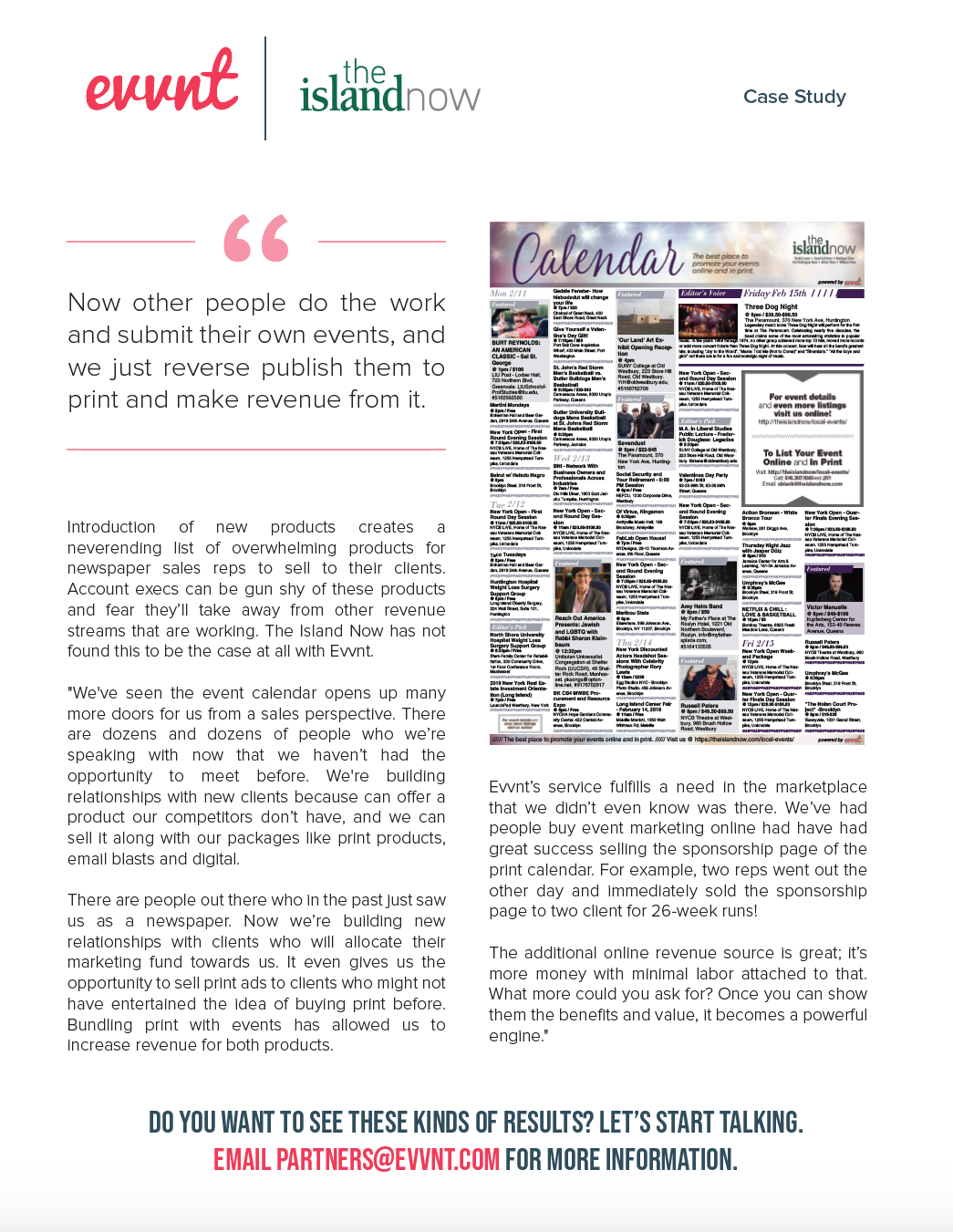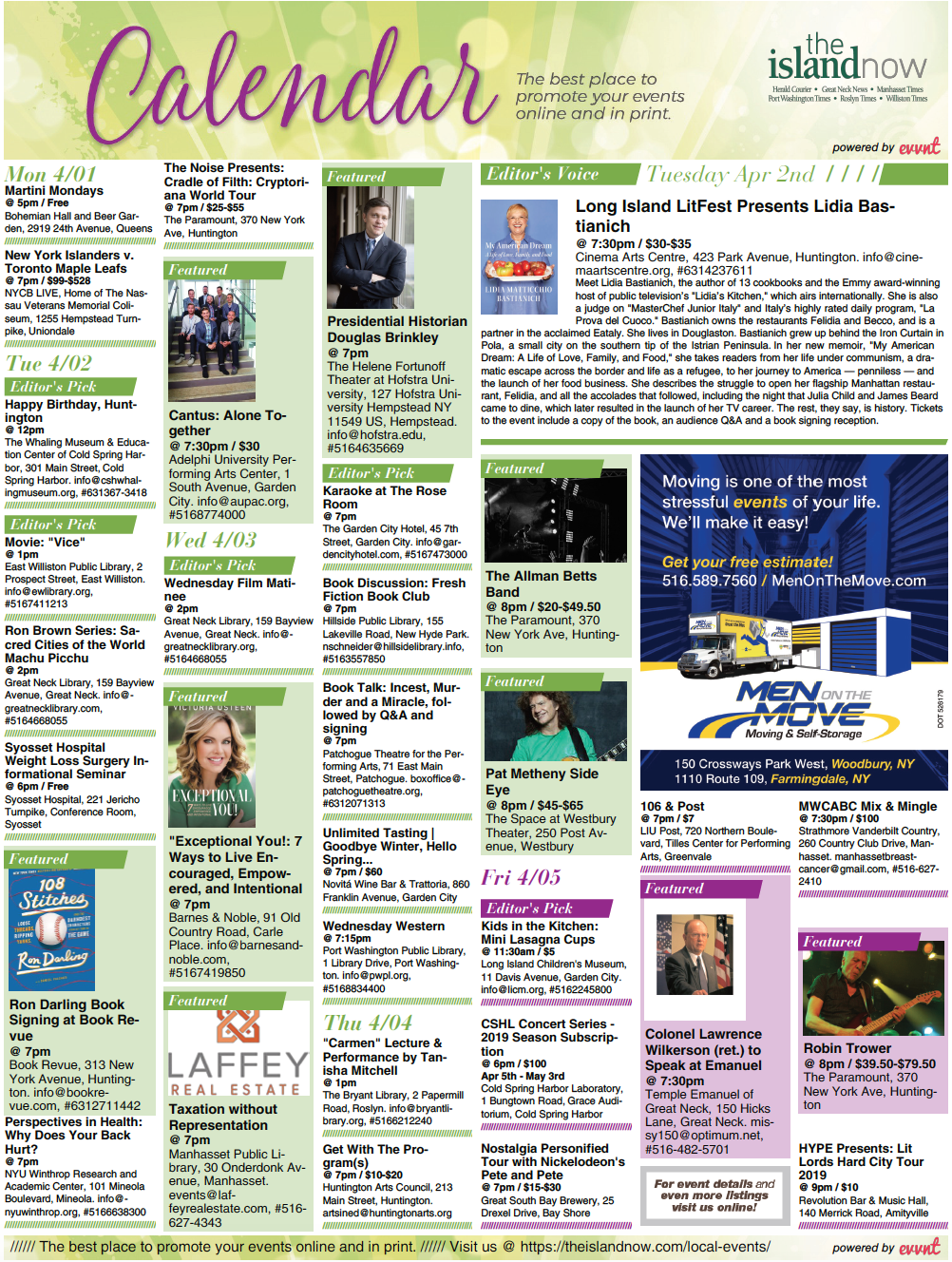 Overall Evvnt Service/ Print Service
"Evvnt's service fulfills a need in the market place, we've had people buy online and a huge success with selling the sponsorship page of print calendar. Two reps went out and quickly sold the sponsorship page to two clients for 26 week runs."
"Having another revenue source online is great. So many companies, like Amazon, are doing business online. It's additional revenue for us with minimal labor attached to it. It's easy to monetize event listings and not expensive to operate."
"I think the calendar that is being produced now is a far superior version from a graphics and automation standpoint than what we had before. Before, we didn't have our events online because we didn't have a solution to go from digital to print. This is the first time we've had an online calendar and it's helped the traffic to our website. Plus, we now have the ability to do something in both print and digital."
"The calendar is very attractive, professional and easy to use. The reverse publishing to print calendar is much more dynamic, colorful, than what we've had before and also generating revenue."
"Before we started using Evvnt, we had no direct way of getting revenue through events. We were doing all the work on a print calendar and seeing no revenue from that work. Now, other people are doing the work of submitting their events, we're reverse publishing them to print and making revenue from it."
Self promotion
"I'm also doing my own events on the calendar. I'm promoting myself and seeing responses and results. It's also important to see what the customer sees when they use the calendar. This helps us promote a different area of revenue for our paper. New Clients
"Now we're building relationships with new clients because can go out and offer a product our competitors don't have and we can even sell along with our packages, print products, email blasts and digital."
"The more people you have interacting with the service the stronger the product is. There is an education process for staff and the public. We actively promoted the idea of people adding event listings to our page. Once you can show them the benefits and value, it becomes a powerful engine."
"New clients can now allocate their marketing funds towards us. This gives us an opportunity where as before, they saw us as just newspapers. Now we're building new relationships and it gives us the opportunity to sell them print where they might now have entertained the idea of that before. They are now more app to consider spending their money on print as well as with events."
New Revenue/ New Mindset
"Some of our Account Executives had to overcome the fear that this would take away business from things like display ads. We haven't found that at all. We've seen this opens up many more doors. There are dozens and dozens of people we speaking with that we are now."
"We're seeing more online only interaction trending for newspapers like with subscriptions and classified. More and more people are used to conducting business online and there is an opportunity for media companies to take advantage of this self serve functionality and gain an additional revenue source. Some people prefer to only use self serve so we're providing something that people really want."