Sign-up for our Evvnt Revenue Webinar to learn more about our Sales CRM!
Every event submission turned in to a highly scored lead with information driving a 2 out of 3 sales result based on out reach calls. You can access all your customers, edit their details, review their events, impersonate their accounts and also add packages, you can even create new customers.
Every event submission is linked to a customer and you can now search, find review and impersonate your customers experience to provide insight and exceptional client services. You can also add a package.
Sales CRM
We have built a simple Sales CRM that expects three outputs
Call No Answer
Call Not Interested
Call SALES!!!
Once logged in to your partner back office then click on customers and see the full list of leads with the following details
Owner - Claim to start the sales process
Status - New / Sold / Claimed
Home Site - Site where they submitted their first event
Name - Person or Company name
Email - Users email
Tel - Telephone number
Signed up - Date they signed up
Last login - Date they last logged in
Events - Number of event submissions
Live Events - Number of events live
Credits - No of un-used credits
Avg Capacity - Capacity of the event
Max Price - Ticket price
Value - Capacity x Ticket price
Information the rep needs to ask and collect
Events / Year - No of events per year they run
Demo? - Do they want a service demonstration
If sold
Proposal - Dollar amount of sent proposal
Premium Single - Premium Single service.
Premium Sub - Premium Subscription service
Sales - Sum of all sales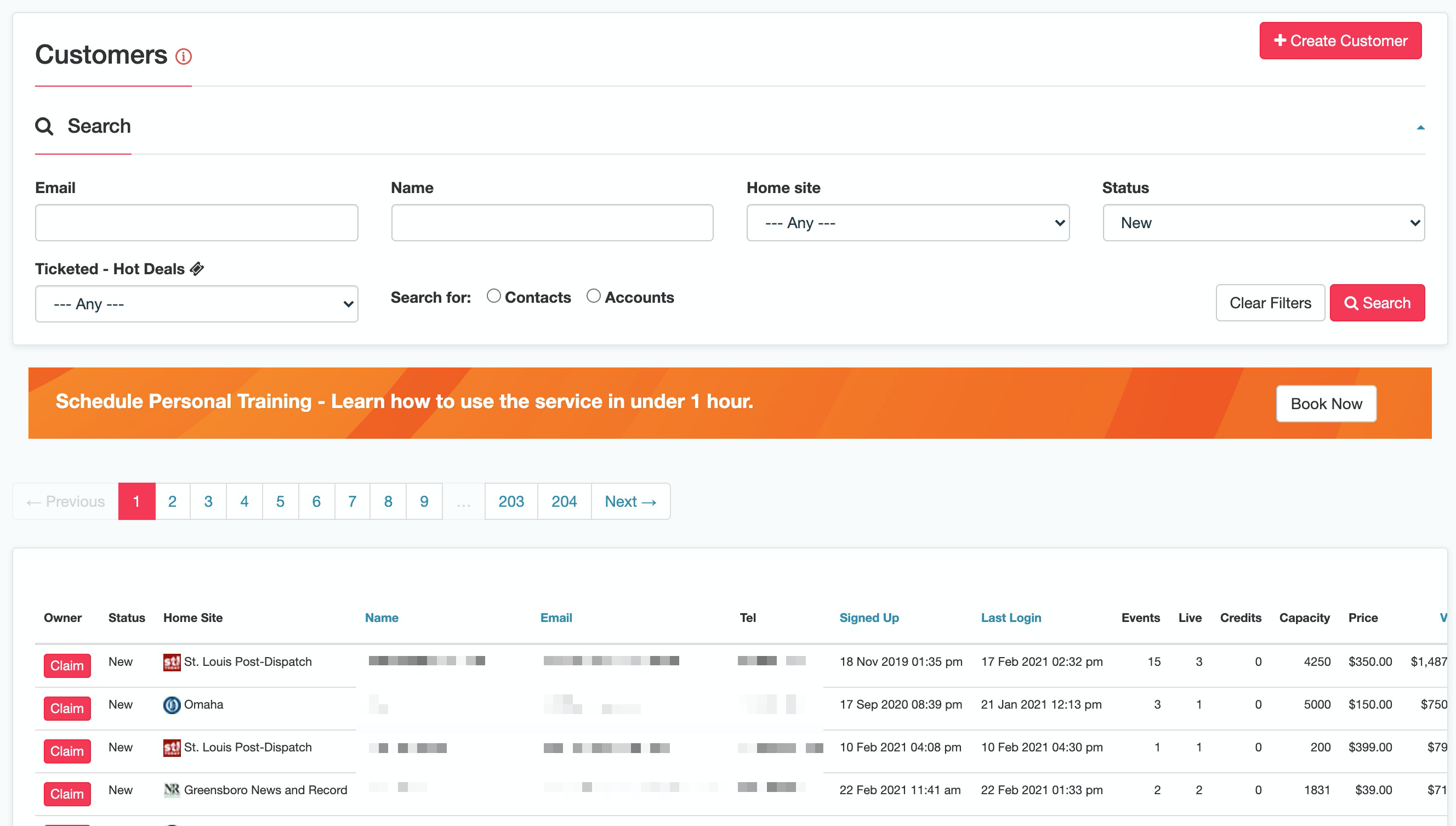 Create Customers - If the customer has not already submitted an event, you can create a new customer in your Sales CRM
Search Functionality
You can also search for leads by email, name, home site, sales status and sort by the various information collected.
START SELLING - CLAIM
Click the 'Claim' button

If a customer shows up in your Sales CRM, then that customer belongs to the partner account. Any salesperson in that partner account can see this list of customers and can "Claim" the lead. This adds a layer of ownership so that the partner account can know the salesperson that may have initiated any package deals for the customer.

Click the 'Live Event' and read
Call the lead

No Answer - Cancel Claim
Answer - ask two questions

How many events do you run over 12 months?
Can I give you a demonstration of service

If no - Try and sell / Not Interest
If Yes to Demo - Impersonate and walk customer through the platform
Exit Impersonate and arrive back here
SALE!! - CREATE PACKAGE... or
Mark as Not Interested.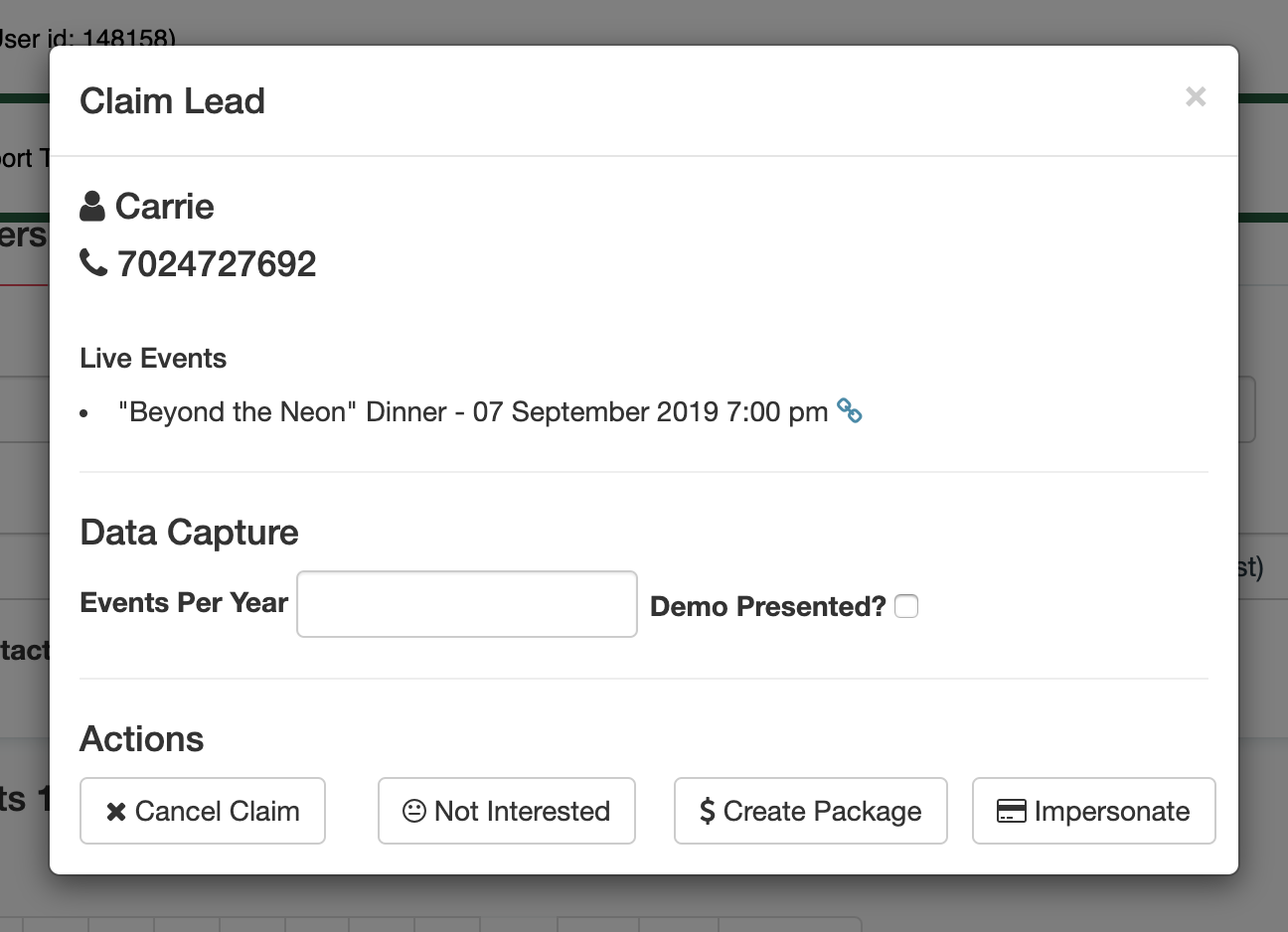 Create Package
Here we pre fill all the package information we already know about your customer and then ask you to check, adjust and process the order
Contact - The person you are selling to
Package Type - Premium Single or Premium Subscription
Plan - Pick one of the 5 plans
Number of Events - in the Package
Syndication - leave at unlimited
Currency - preset to your local currency
Price per Event - Cost per event
Contract Term - 3, 6, 9 & 12 Months
Discount - based on Premium Single bundles over 10 credits and subscription over 12 months.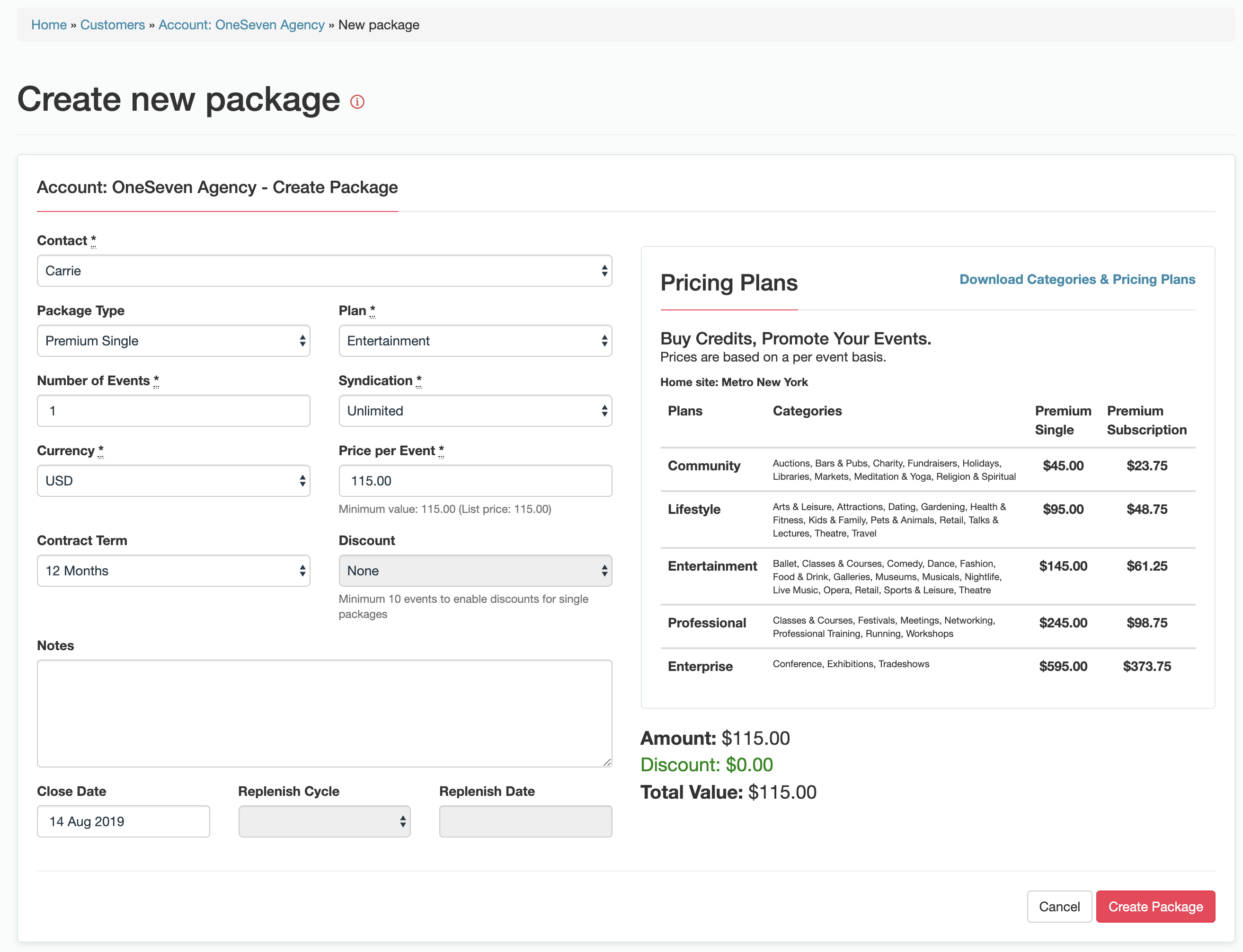 On the right side is the 'Pricing Plan' for your account this includes plans, categories associated to the plans and prices for Premium Singles and Premium Subscriptions.
Lastly the amount, discount and total after discount.
Customer Contact Information

Customer Events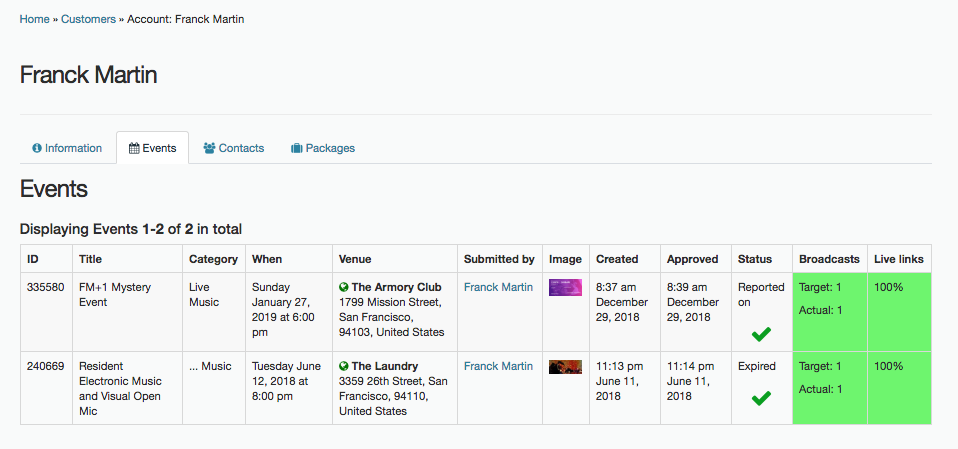 Packages

You can also easily now create your own packages
Complete the information on your sale and simply create package and then activate.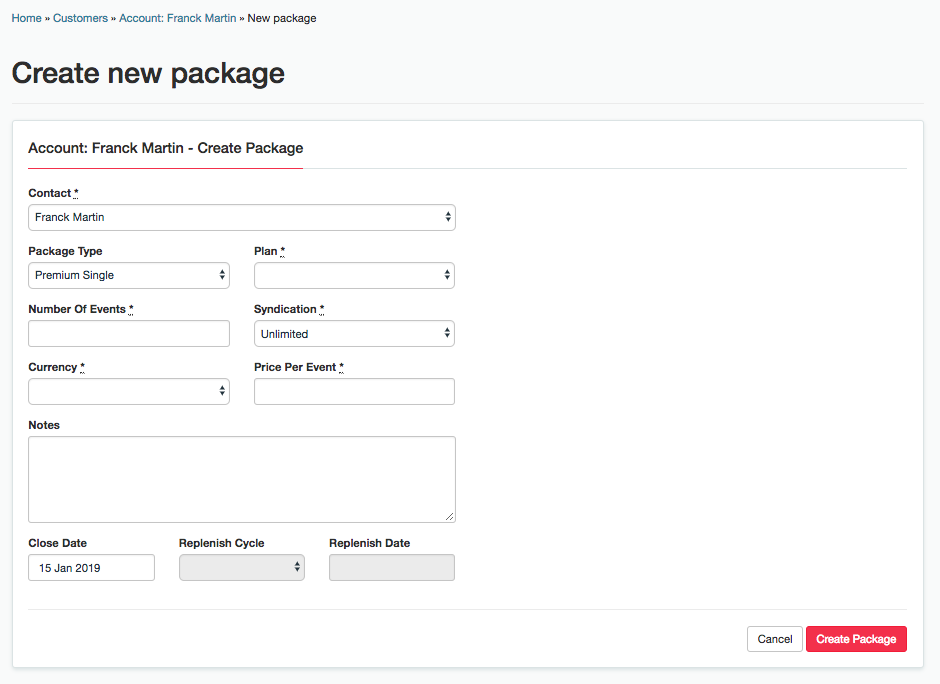 You MUST remember to activate the package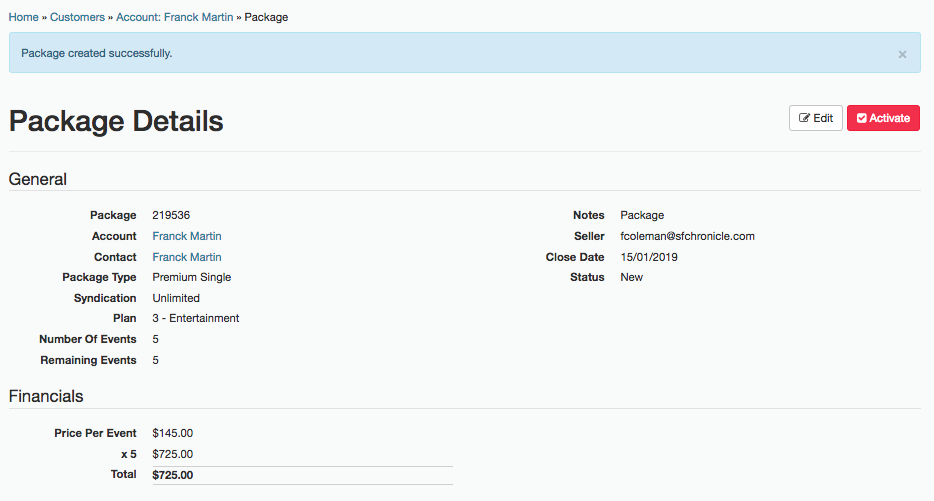 Packages List