We are working with newspapers across the US to automate event submissions from online to their local weekly newspapers using a technology process called 'Reverse Publishing to Print'.
When Reverse Publishing to Print is enabled for a calendar site, our system will automatically produce a full color print page of upcoming events from your calendar. You can see examples of some common templates in this article: Print Calendar Examples.
Already signed up? Get started here, How to Configure your Automated Print Page
We are bundling this service with our premium offering across selected newspapers so users can, from a single submission, be listed, syndicated, featured and now in the local newspaper in a print events calendar the week of your event.
Here's how it works: 
Evvnt software allows any event marketer to submit their event to your online calendar. Event marketers can then automatically access additional distribution to a network of more than 3,500 websites by category and location, giving them an even greater incentive to get on board.
While events will automatically appear for free in your digital calendar, you can offer marketers upsell opportunities for advertising in the print calendar, status upgrades like "editor's pick" or "featured" events, voice marketing and more valuable add-ons. This gives you the ability to create incremental revenue from an avenue that previously brought in little to no profit.
In addition to event marketer submissions, EVVNT can automatically populate your calendar with events from Ticketmaster, Eventbrite and other channels, so you always have a robust calendar base.
Through an easy-to-use CMS, your digital calendar can be curated and automatically converted by METRO to a ready-to-publish, revenue-generating print calendar like the one shown on this page.
Use print pages to cross-promote your online event calendar and listings, and quickly generate as many automated print pages as you need to accommodate premium event advertisers.
See full list of features here
__________________________________________________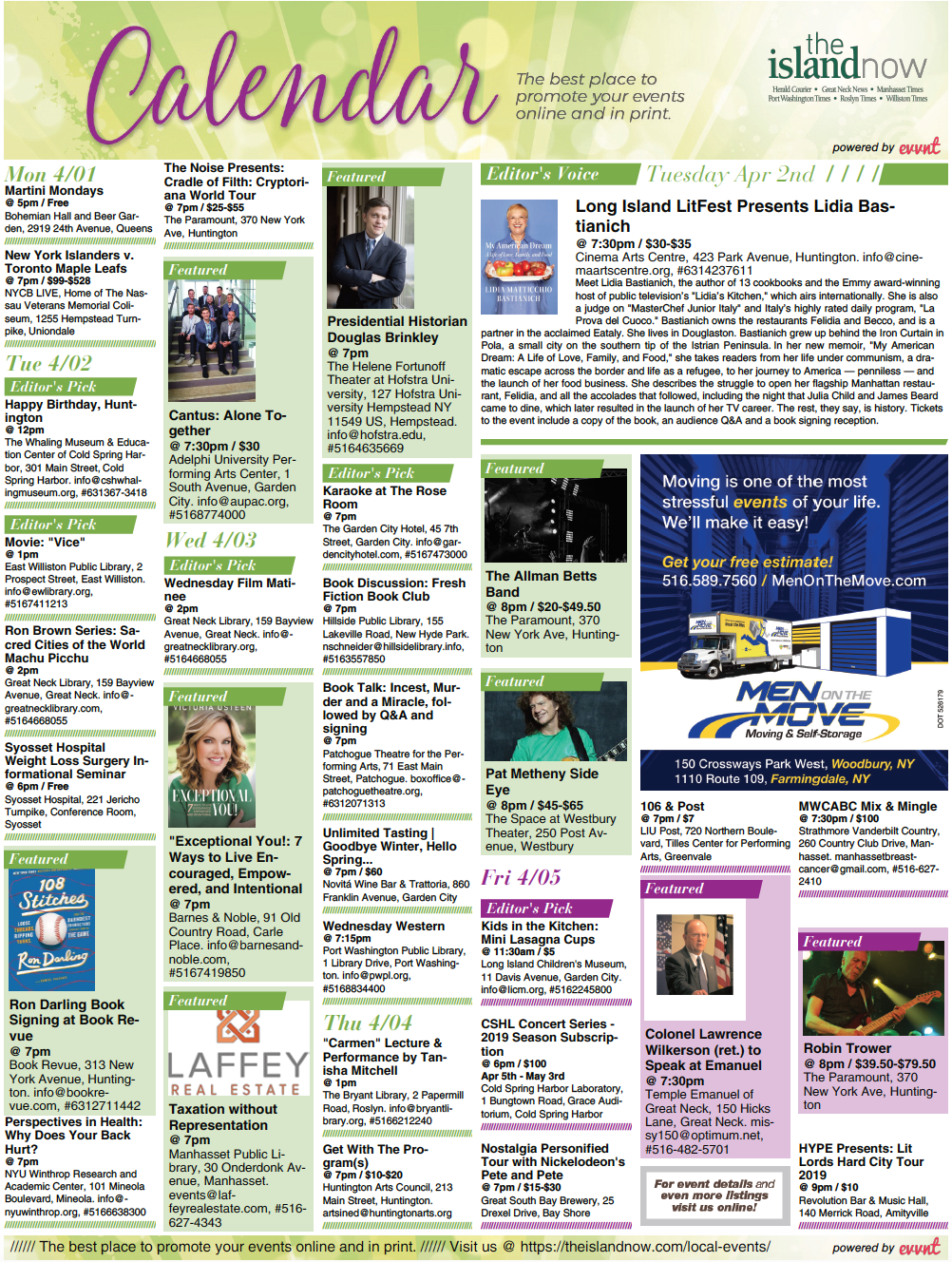 __________________________________________________
Case Study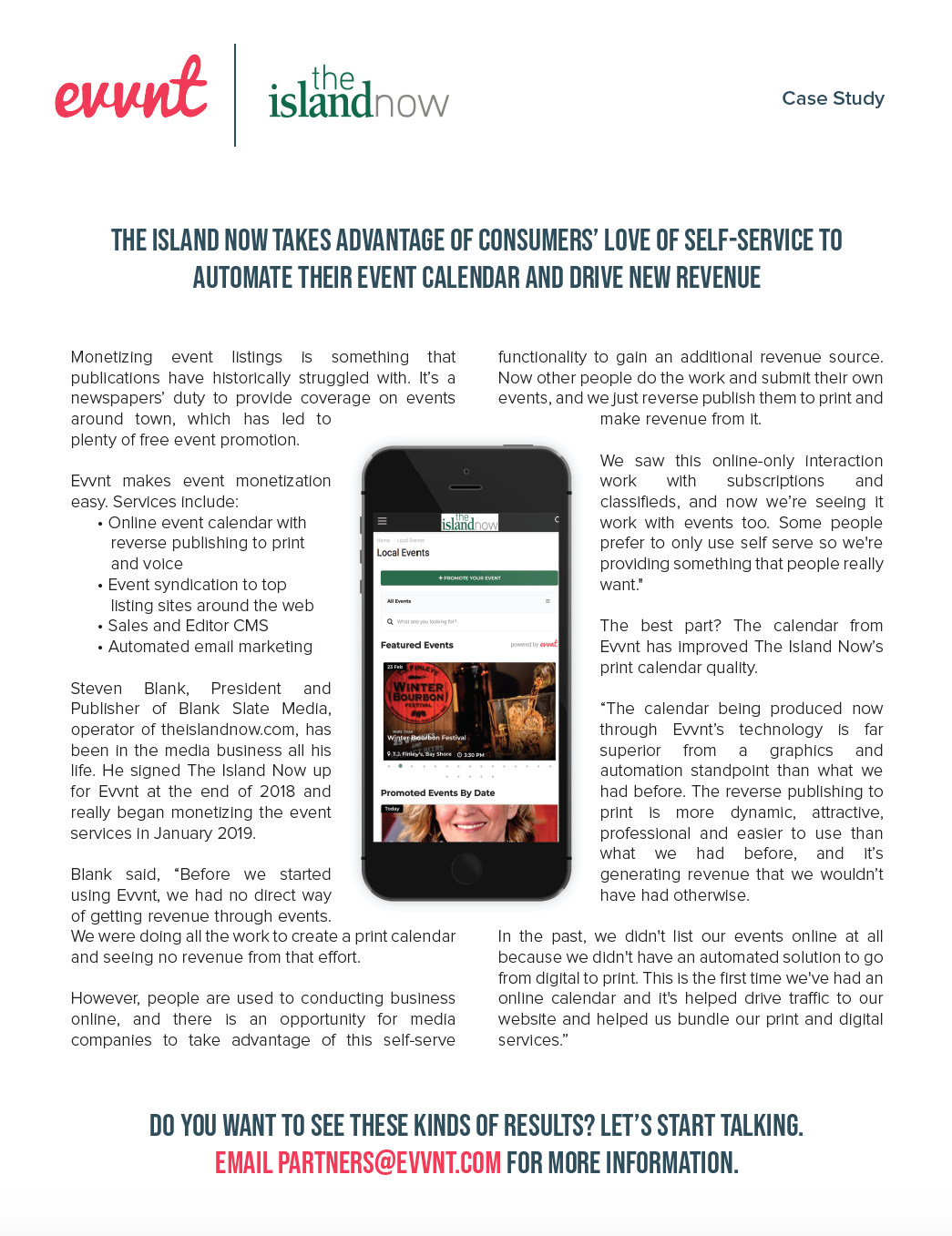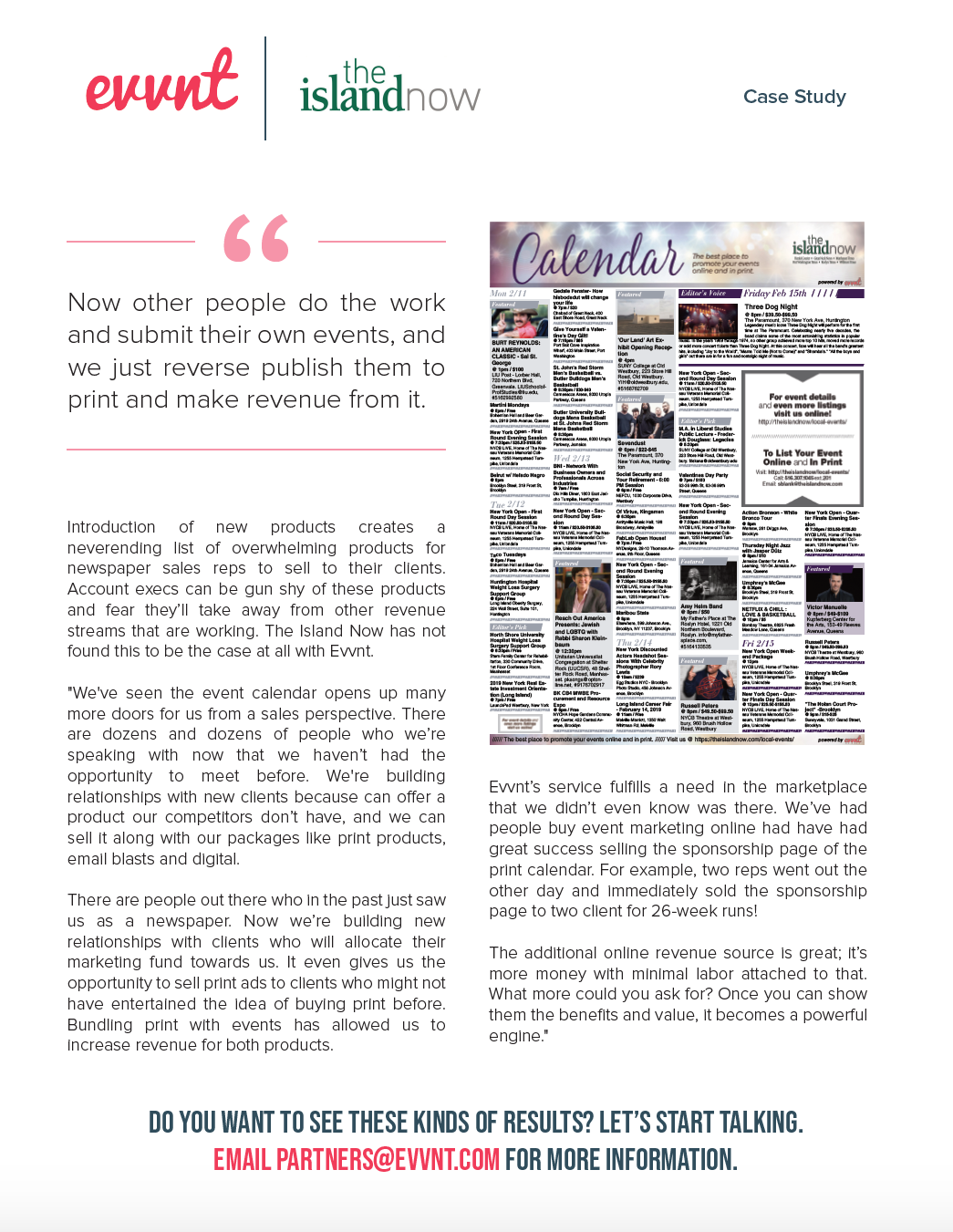 Available features:
Send finalized pages to multiple emails
Set a print deadline lead time by hour
Calendar automatically generated weekly, fortnightly, or monthly
Specify the number of dates to include
Select from a template or request a custom template (one-time fee)
Custom logo, advertising and promo images
Select from 1-4 pages
Customized page width, depth, and margins by inches, millimeter, or points
Include QR codes for featured events to link to event details online
View future and all past editions generated
Manually create pages to work with new artwork or event data
Edit event information before or after automated delivery
Automatically inherits event status from online calendar (featured, picks, etc.)
Custom featured, editor's picks, and editor's voice options for all events