Through reverse publishing to print you can curate your local publication's events calendar in a click!
Editors can choose to Feature, make it an Editor's Pick, or add an Editor's voice to the events and have it reflected in the print ready PDF delivered right to their inbox. Follow the steps below to see how it works.
Step One: Choose Your Template
First we'll need you to provide us with info needed to generate your print template. You can find details on the need info here. You are able to choose from a number of templates and have your logo and colors added to give the PDF the look and feel of your brand.
Once we have your info and chosen template, we generate it using your data and send to you for review and finalization.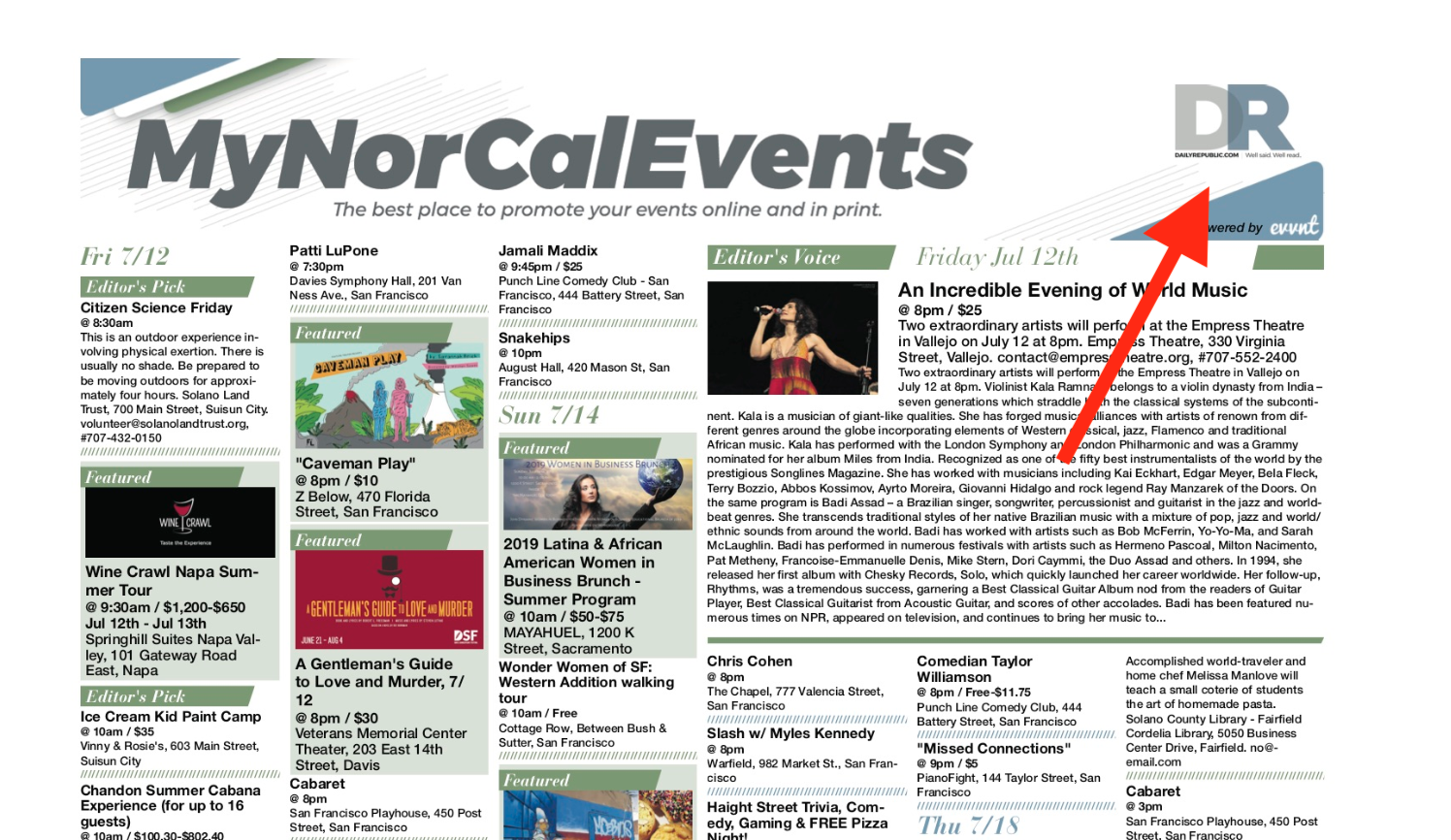 Step Two: Curate Your Content in the Editor CMS
Once your template is agreed upon, it's time to get your data the way you want it! Usually, you want to aim for 10 Featured events, 5 Editor Picks, and 1 Editor's Voice per print date range. Remember, any event that purchases the premium will be automatically Featured.
For example, if you want event data for the day range of Monday-Monday, you'll want to ensure you have a 10/5/1 ratio with a backfill of events to fill your print calendar.
We make it easy for you to spot when you've selected the correct amount of each event or if more are needed by clicking on the Print Selection button in your Editor CMS (see below). Once all the items are green- your content is good to go!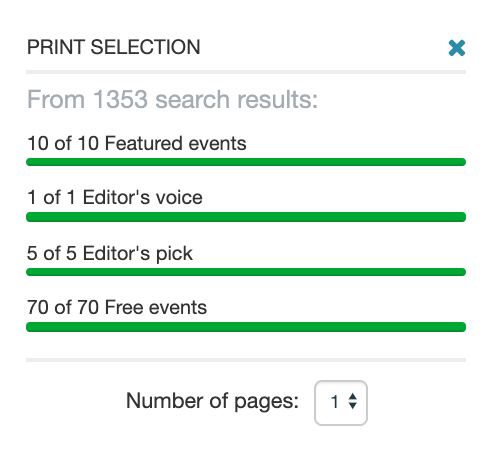 Step Three: Print Ready PDF Delivered
Once your data is selected, the content will be added to your template and delivered to your inbox at your specified date and time.
For example, if you go to print on Thursday afternoon and need the print ready PDF delivered by Wednesday at 9am EST, that it when it will be delivered to your inbox. See example of one print ready PDF below.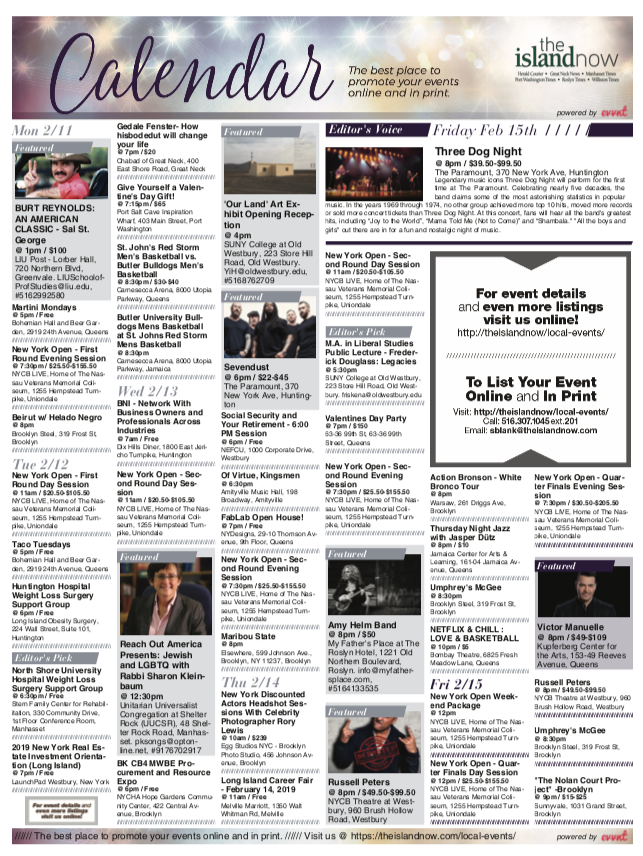 Step Four: Add to Your Paper and Share!
Once you have your PDF, add to your print edition and don't forget to share with us how it turned out. We love to see how your community reacts and responds to this new edition to your print.
Below, take a look at a local website's reaction to our Partner's new print calendar!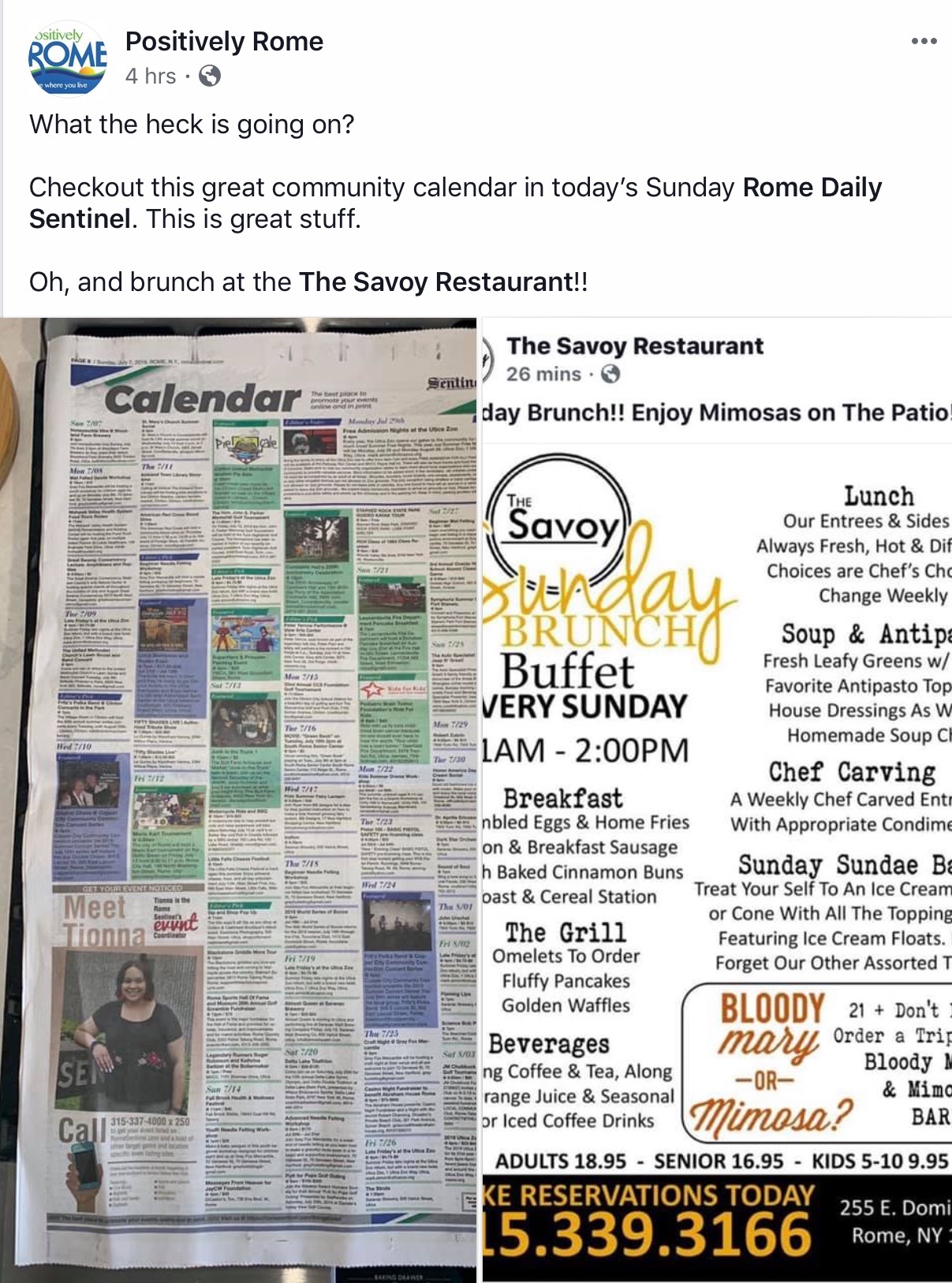 When first getting started with our reverse publishing to print service, we'll need some info from you to get your template the way you need it. Below are the needed items.
One: Page Dimensions
Printable area
Number of columns desired
Margins
Two: Media
What logo would you like us to use?
Optional Large Sponsorship Ad, You would provide this ad to us.
Optional Large Generic Ad, if the sponsorship ad is not sold, we can place a generic ad that promotes the online version to view expanded listings and participation by event organizers highlighting your contact person and email.
You can also have

multiple ad spaces

if you'd like
Three: Contact Details
Four: Page Schedule
Day & time by which weekly print pages are due (i.e.: Tuesday by 11:00am EST)
Will you need a single page or multiple pages? Most start with a single page.
Date range to be included on page(s) (i.e.: Seven days starting on Mondays)
Five: Additional Requirements
Please let us know if you have any other additional requirements for your page
Once these needed items are filled out in your playbook, we can turn on your reverse publishing to print abilities in your Editor CMS. You can then start creating beautiful, automated, print ready PDFs for your publication!