Revenue Generating Event Calendars can generate substantial income from $100k to $1m+ per newspaper for early adopters in 2019. Here you will find a number of key slides that cover the methodology and key pillars of technology to achieve your goals of content, traffic and revenue.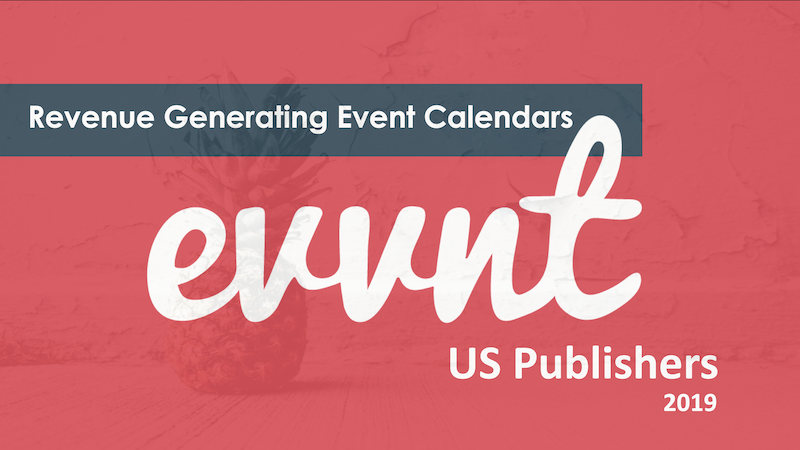 Introduction to event marketing automation integrated in to local event calendars to create the worlds first local event ad network and marketing automation platform.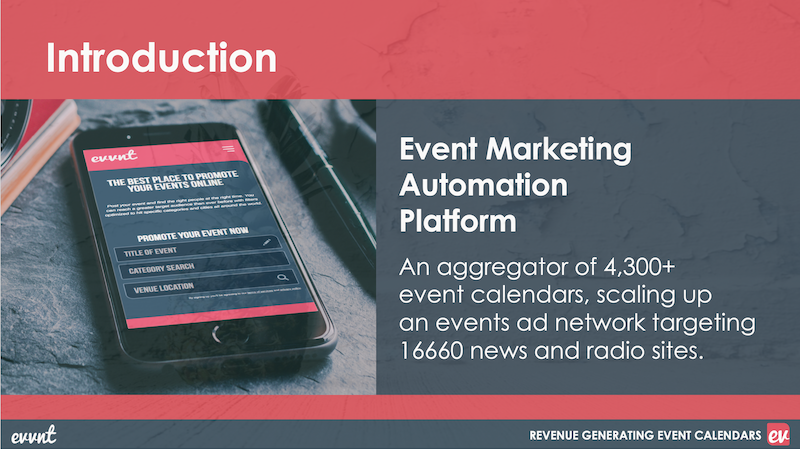 The Problem of marketing effort and value failure which results in lost revenues for publishers all over the world.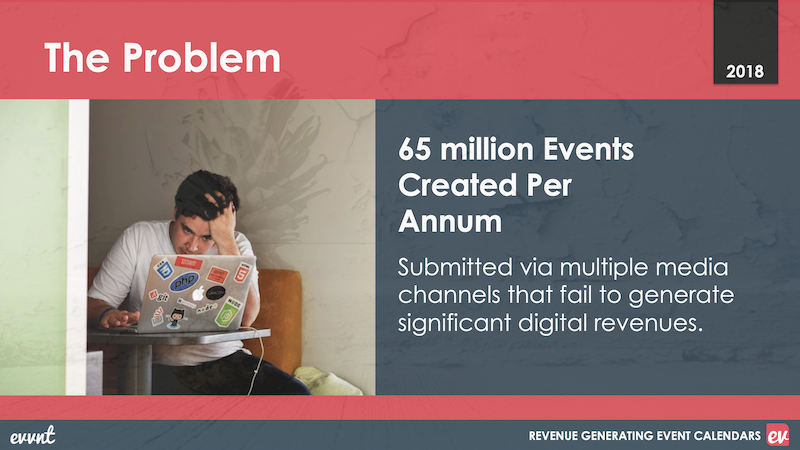 The Solution is an effective event marketing service that focuses on value and accountability connecting event marketers to customers and revenue.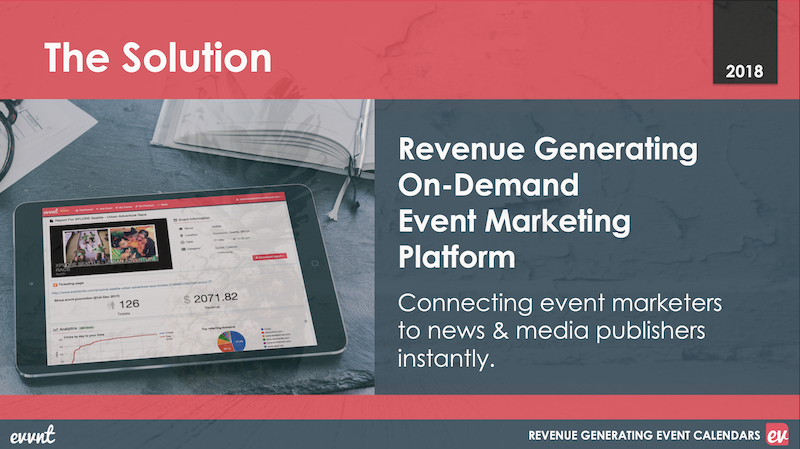 Market Size is based on the conference and exhibition sector with no clear statistics for the local event market which in terms of event submissions relates to 97% of the entire market.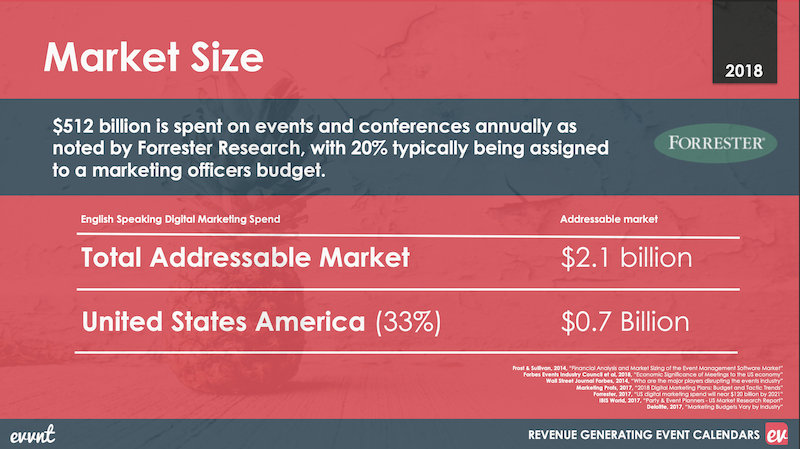 How does it work? step by step guide to revenue.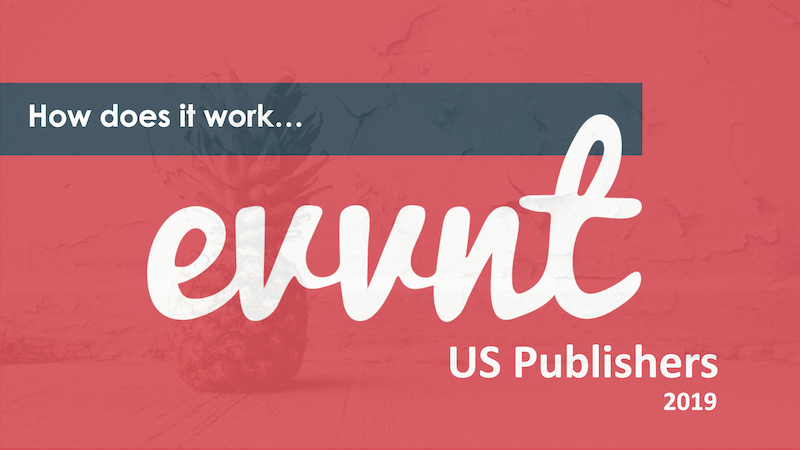 The 4 key pillars of technology to ensure high quality searchable content, premium offering that drives sales, editorial access for content controls and sales lead creation from ever event highly scored and ready to be sold to.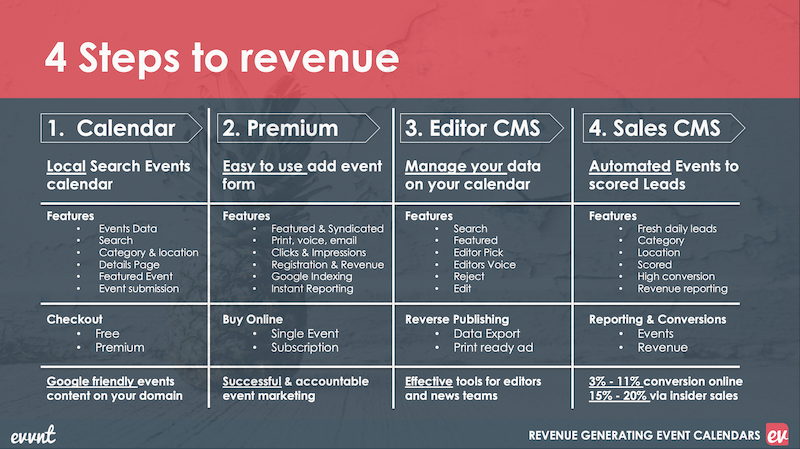 The events calendar, like the 4000 event calendars that exist globally simple deliver content to users who are looking. We understand that most consumers come in the events calendars via a details page - 86% to be precise.. after executing a Google search. We ensure the calendar and all events details pages are Google friendly.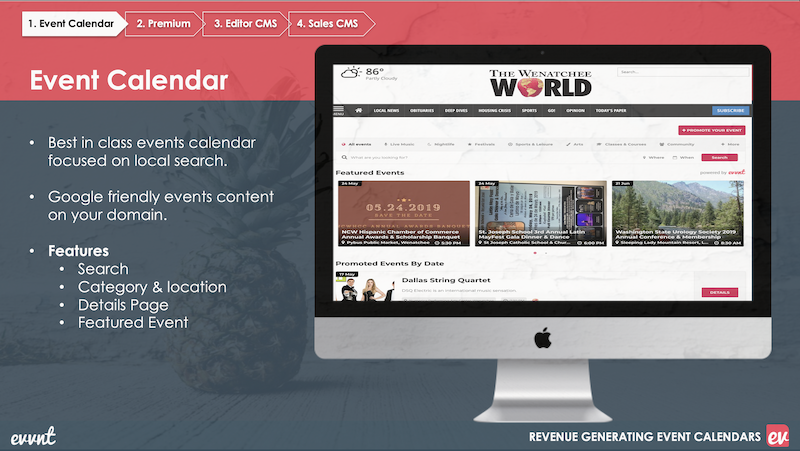 5 Point Sell Strategy which introduces the event promoter to the events premium throughout the event submission process.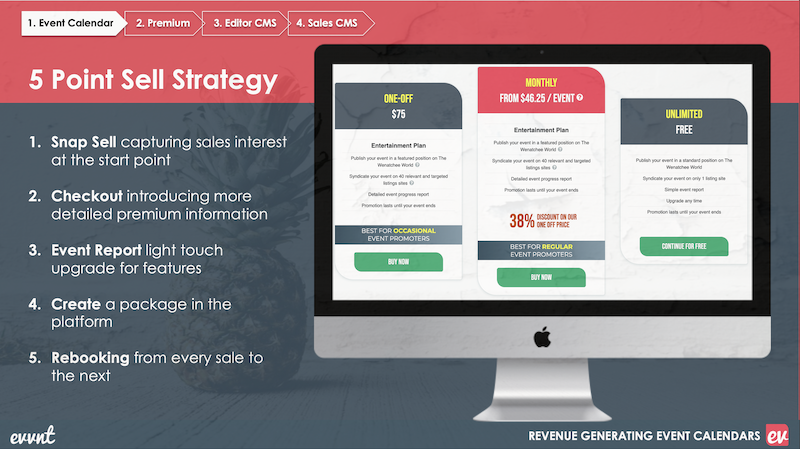 Checkout is on every events calendar and details page you will see a 'Promote Your Event' button that allows users to submit an event and also upgrade to premium. 100% of your event submissions can be submitted for free however we experience a 3% to 11% conversion to our premium services.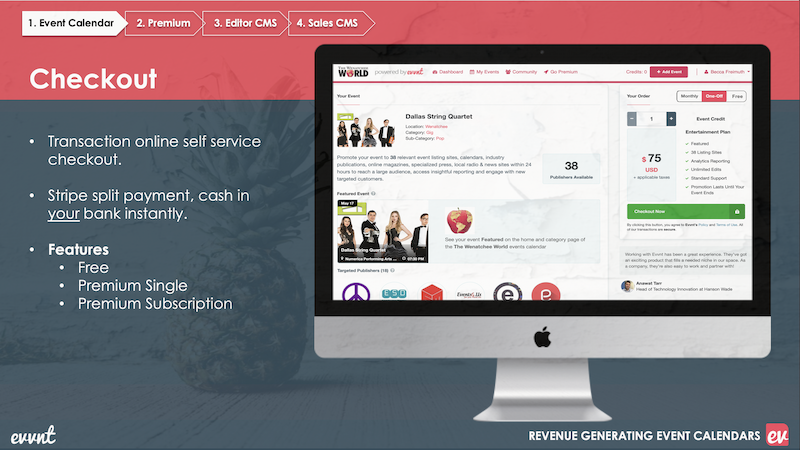 Event Reports are issued on a per event basis, it's essential to provide a level of accountability for every single event, here the user can see the event they submitted is live on the calendar and also access reporting and click metrics to monitor the marketing performance.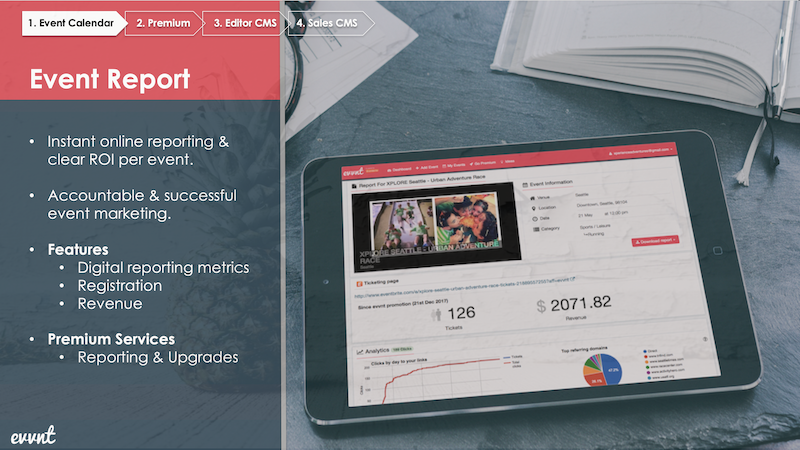 The Event Premium is a premium that recognizes the consumer is on multiple devices and various publishing online channels so we ensure a customers events content is distributed to every relevant site by category and location to capture as much consumer interest as possible. Here below you will see Bakersfields content is distributed, featured the events calendar, print and voice search - a comprehensive product offering for local events.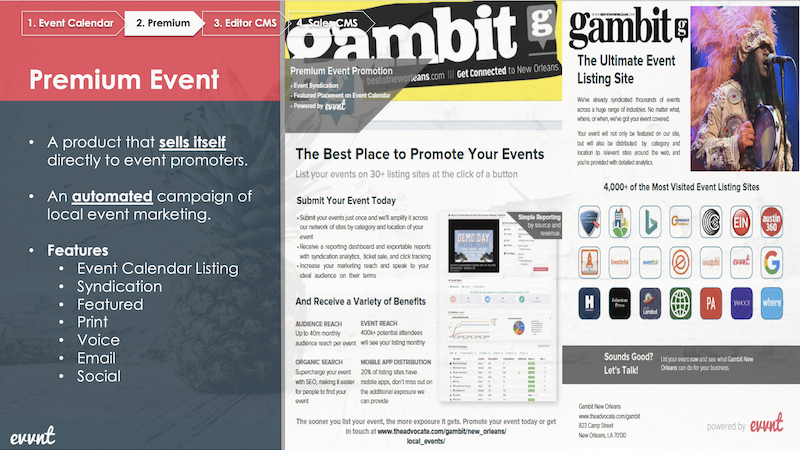 Editor CMS simply allows your editors to fully control and upgrade the visibility of data on your events calendar. Here the editor is king, however we automate 90% of the deliver so it's also a light touch for publishers with smaller editorial resources.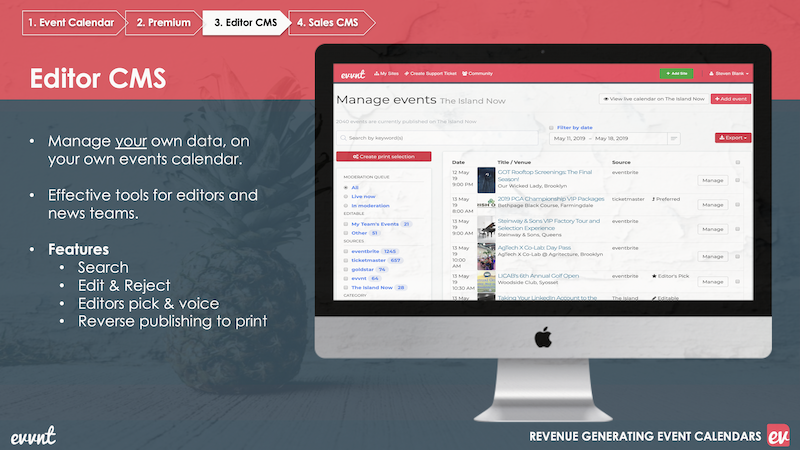 Sales CMS converts your event submissions in to highly scored fresh daily leads for sales teams, here we seen up to 20% conversion rates to revenue.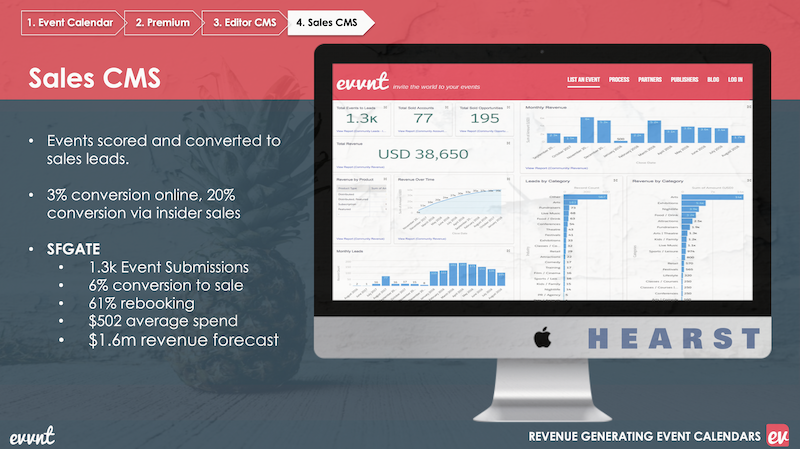 Time is of the essence so we made the activation of your revenue generating event calendars super simple with a click and go widget that has you live to site within 15 minutes.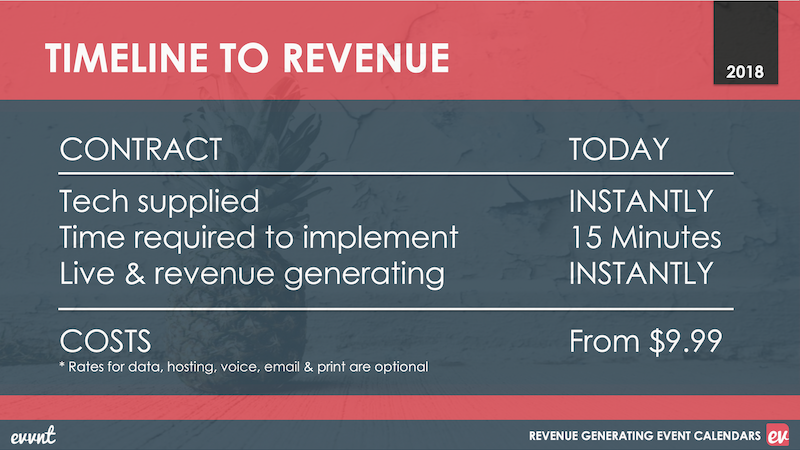 Customers & Partners who currently use Evvnt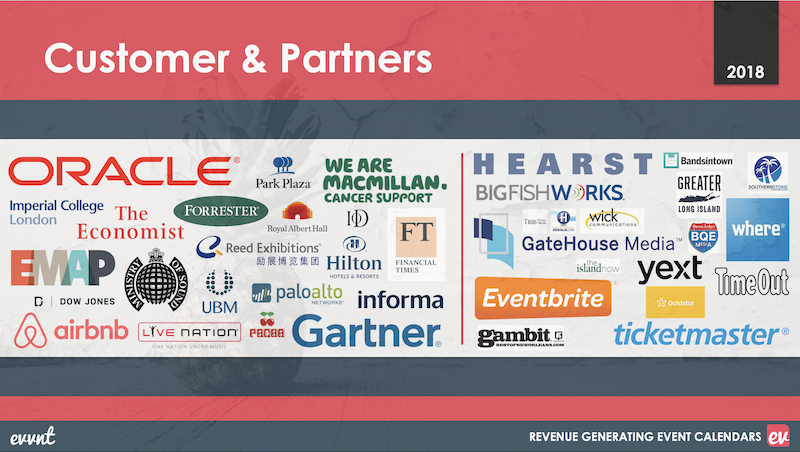 Pricing