These are the steps the user goes through when submitting an event to your calendar. 
Step 1: Form Submission
There are two ways a user can fill out the form for their event. Click here to see every step of the form in detail.
They can go directly to the calendar online and click the "Promote your event" button 
A sales rep can fill it out for them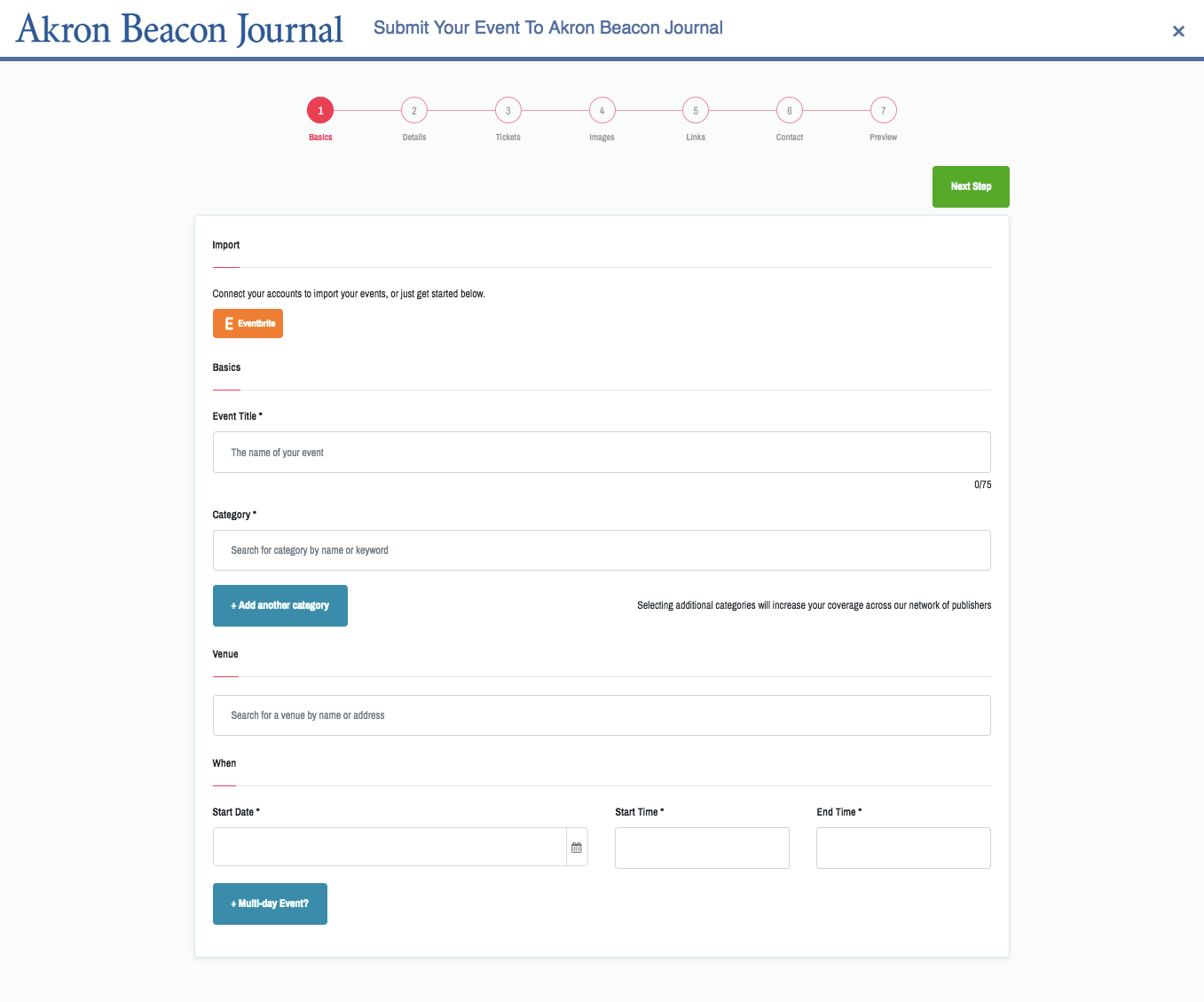 Step 2: Premium or Free
The event form provides all the information we need to list the user's event. When it comes to the option of upgrading to premium or submitting a free listing to your site, there are two ways they can go about it. 
ONLINE

: Once they are done filling out the form online, they are taken to a checkout page that offers "Monthly", "One-off", and "Free" options. "Monthly" gives the user the option to purchase a subscription of 4 events per month, rolling. "One-off" provides the user with a single event purchase. "Free" allows them to list their event on your site without the event syndication. Below is an example of a checkout page. The user is also shown where they could be listed if they upgraded to premium (example below lists 34 sites).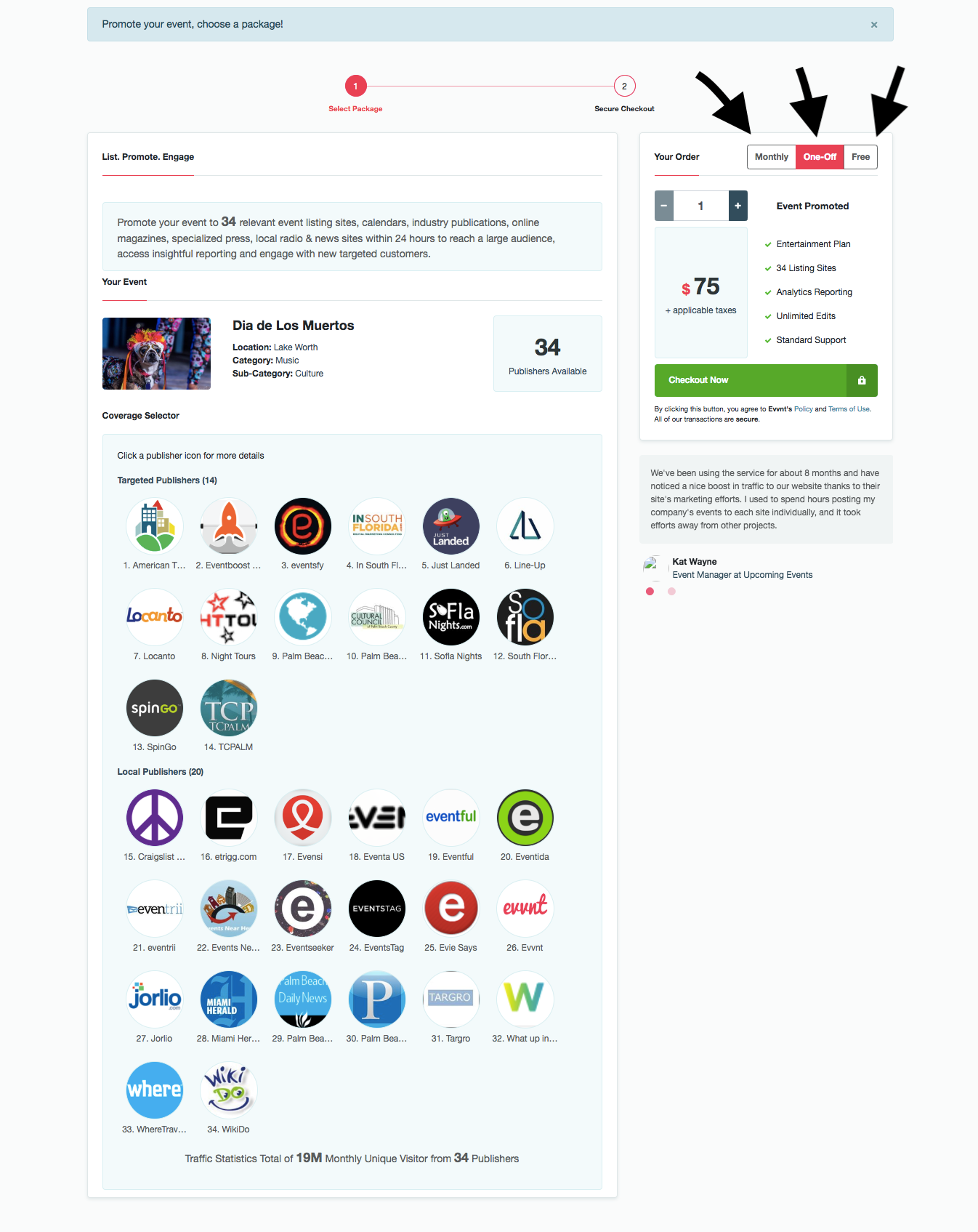 Sales Rep

: Sales reps are encouraged to sell to users in

bundles

. Reps are provided with sales PDFs to aid in selling. If a sales rep is involved, the user will decide through that conversation if they'd like to upgrade or do a free listing. The sample sales PDF below is an example of what a user may see during this conversation.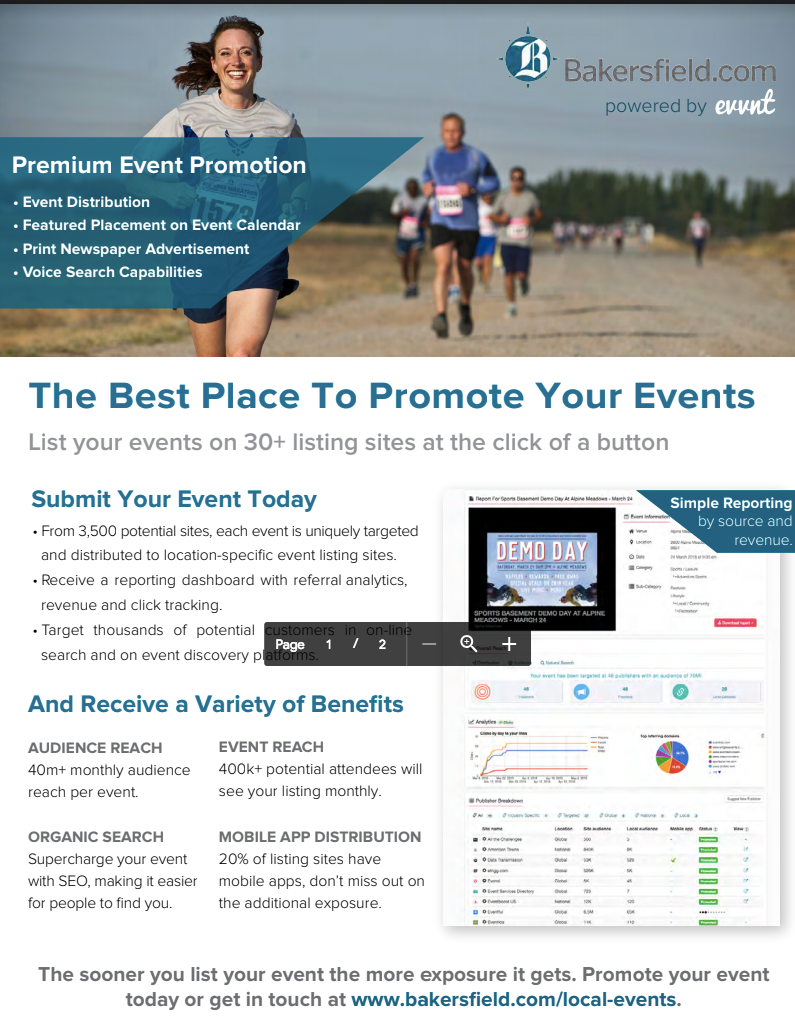 Step 3: Welcome Email/ Report Email
Once the event is submitted and the user has chosen to purchase or have their event listed for free, they will receive a welcome email to verify their account (first time submission only). They will also receive a report email that gives them access to their report through the "click here" link. Sample report email below.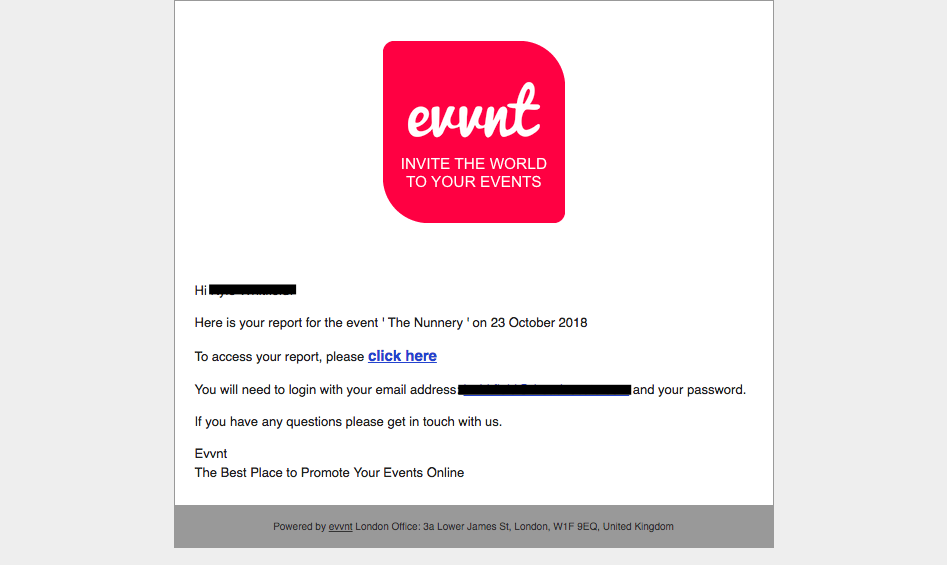 Step 4: Analytics Dashboard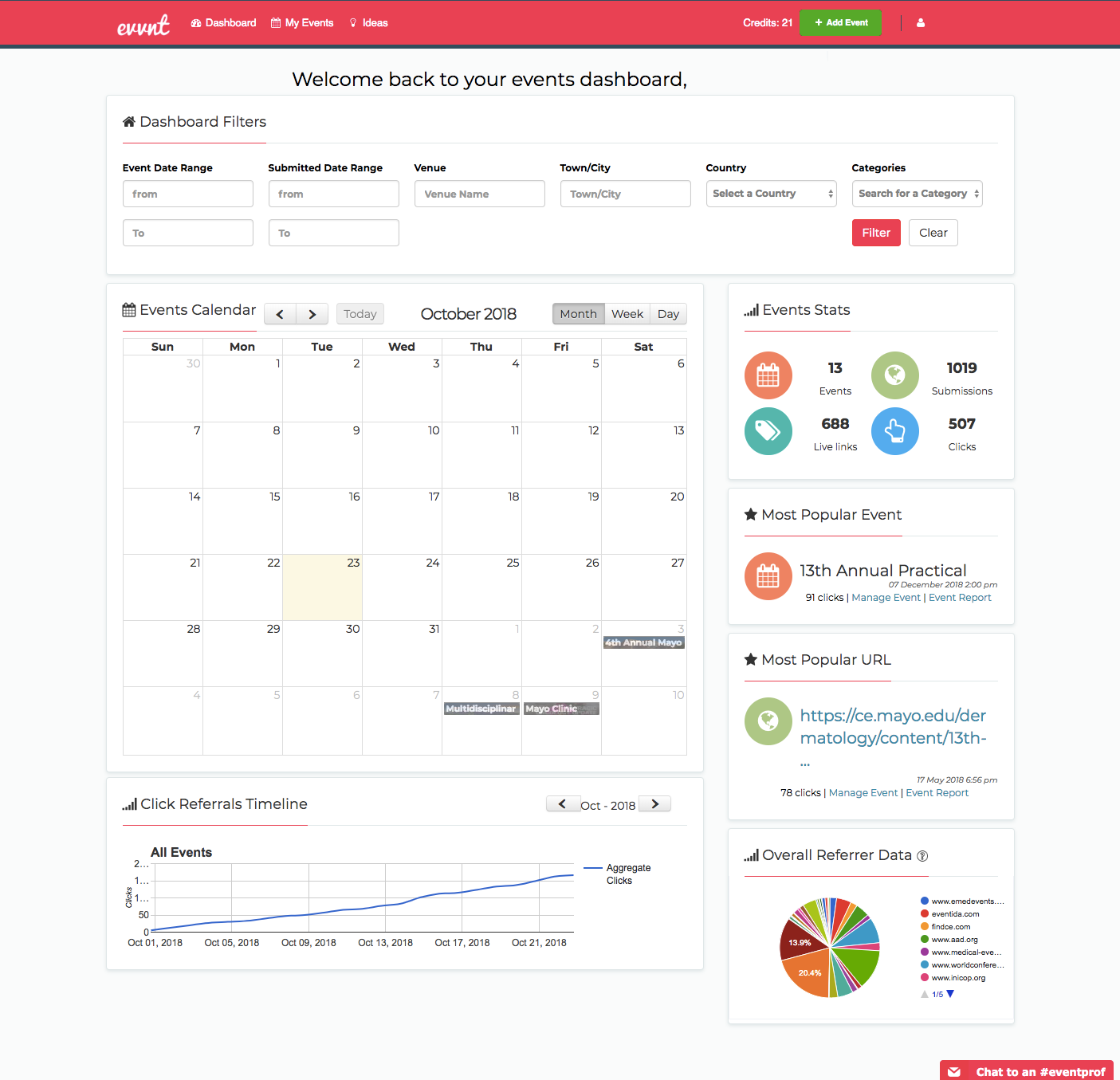 Once the user has set up their login, they have access to their analytics dashboard. The amount of information we provide for their event will differ depending on if they upgraded to premium or chose a free listing. 
Premium Analytics: If the user upgraded to a premium event listing either by purchasing online or through a sales rep, we provide tracking for clicks, event syndication to relevant sites based on category and location, as well as links to the page we created promoting their event. This information is available to them when we begin promoting and even after the event has ended. They are also able to download their report to PDF or XLS. 

Free Analytics:

 If the user chooses the free listing, their analytics will have considerably less information. They can view all their event information and see that we promoted them to one site (see circle below). Note, the user has many opportunities to upgrade to premium even after checkout (see arrows below).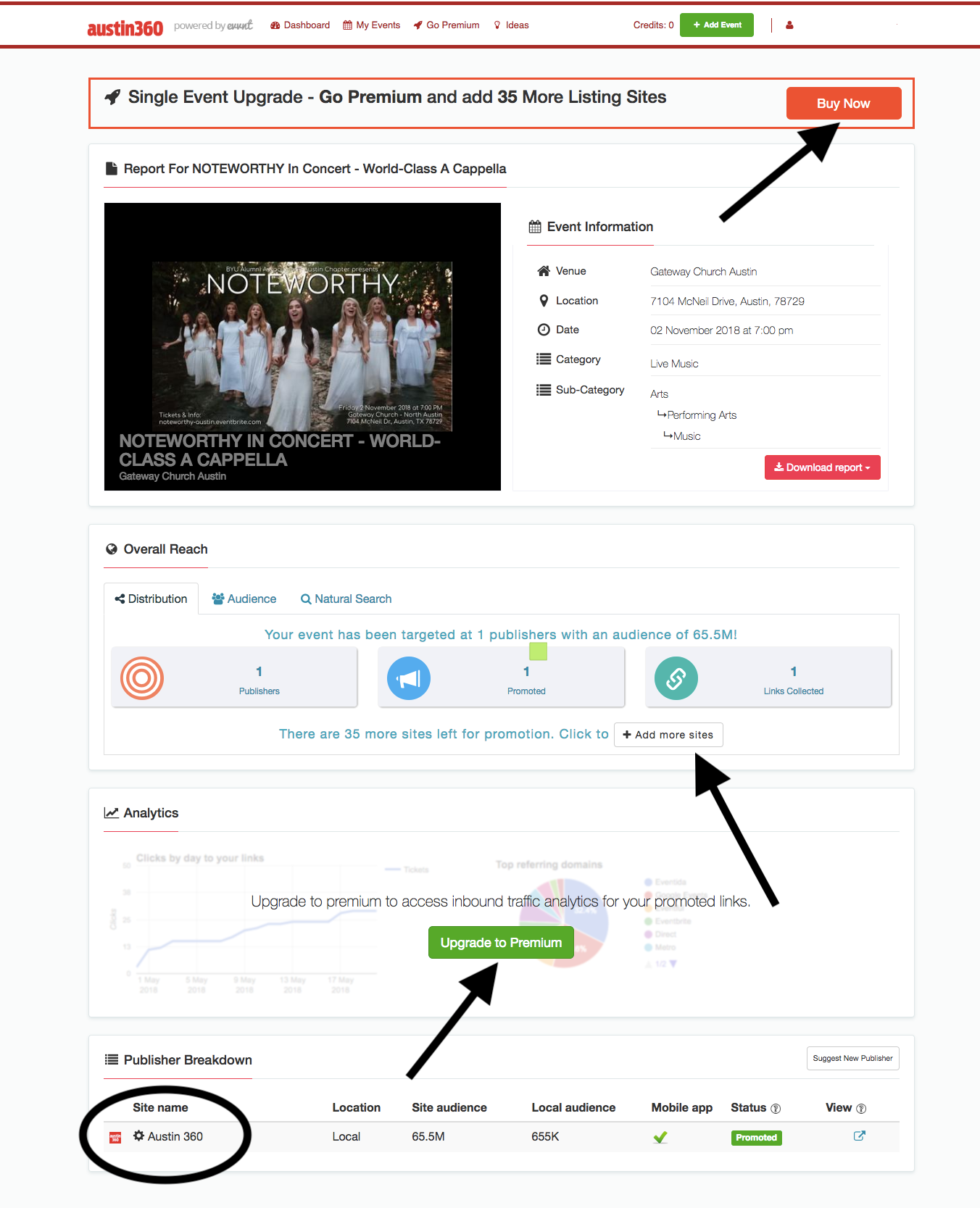 Step 5: Repeat Customer
Around 86% of users that purchase the Evvnt service become repeat customers. They already have access to their dashboard and can easily purchase again online or through a sales rep. Usually after their first event they see how this service can be a valuable part of their event marketing strategy and purchase from your publication again and again!