Evvnt has three pricing tiers. You know your community so we allow you to decide between our Small, Medium or Large Market pricing for your calendar.
Understanding Five Tier Pricing
The five-tier pricing is broken up into five categories: Community, Lifestyle, Entertainment, Professional, Enterprise. These categories refer to the type of event a client submits. There is different pricing for each category and this allows for all different types of events and budgets to benefit from the Evvnt service.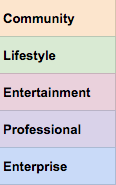 Large, Medium or Small Market?
Choose between Large, Medium or Small Markets pricing model.
Online Pricing Explanation
There are two online options for someone when they purchase the premium solution. One option is the One-Off purchase of a single event premium and the other is the Monthly Subscription option where the client gets 4 event premiums (minimum) each month. As more event credits are added to the subscription the price will increase and be displayed to your user before purchase.